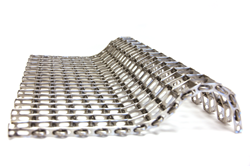 "PacLite's unique design creates more open area for hot air to reach the fibers and, because it's lighter, it takes less power to pull the belt through the production line, which produces energy savings over time." -- Bob Maine, Director of Engineering
(PRWEB) October 14, 2015
Cambridge Engineered Solutions has introduced PacLite, a new lighter weight, flatwire conveyor belt with variable openings that is ideally suited for fiberglass insulation production.
Manufactured using a new proprietary process developed by the company's engineers, PacLite is 30-50 percent stronger than standard flatwire belts typically used for insulation production and weighs 10 percent less than its predecessor, PacTitan®.
"Insulation manufacturers can use PacLite to transport glass fibers through the oven sealing process," said Bob Maine, Cambridge's Director of Engineering. "Its unique design creates more open area for hot air to reach the fibers and, because it's lighter, it takes less power to pull the belt through the production line, which produces valuable energy savings over time."
Cambridge has long-term relationships developing conveyor belt processing solutions for leading manufacturers, including Johns-Manville Corporation, Schuller GmbH and BASF.
"We have worked with the building product industries for decades and have deep experience in the unique – and often challenging -- processing environments required to produce glass wool insulation materials," said Tracy Tyler, Cambridge President and CEO.
According to an April 2015 report by Markets and Markets, the world's building thermal insulation industry is projected to grow to $27.0 billion by 2020 as home and commercial builders aspire to optimize energy efficiency. Europe and North America are the major markets for building thermal insulation materials.
PacLite is available in both standard and heavy-duty versions and features Cambridge's NokLok™ picket technology, a proprietary form of perfect and interlocking links that increases strength, durability and product stability and reduces belt stretch and distortion.
Technical Specs:

Width: To 256" (650 cm)
Speeds: To 250fpm (76m)
Temperatures: To 1,000° F (538° C)
Metal: T316LSS, WRSS, T304SS or HCS Galv.
Visit http://www.cambridge-es.com for additional information on PacLite and other Cambridge belts.
###
About Cambridge Engineered Solutions
A division of Cambridge International, Cambridge is the world's largest metal conveyor belt manufacturer and a global leader in filtration screens. For more than a century, Cambridge has developed dynamic solutions, revolutionizing industry automation and plant operations. With more than 15 exclusive product lines and over 50 patents, our team of dedicated engineers and experts continually devise new methods to make lines run smoother, faster and handle more product weight. For information visit http://www.cambridge-es.com.