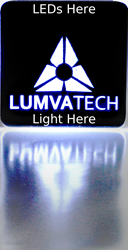 Continuing commitment to US based design and production of LED backlight panels.
Williamston (Anderson) , SC (PRWEB) October 27, 2015
Lumvatech is relocating. Customer support and business growth has led the company to search for a larger, more flexible, and efficient production facility. The corporate, accounting, engineering design, shipping and manufacturing departments are all affected by the move. The new facility will support growth into 2016 and beyond.
Please note that as of October 15, 2015 the corporate address for Lumvatech has changed to 112 Twenty Nine Court, Williamston, SC 29697. The new consolidated facility is located 13 miles east of our former Anderson, SC facility. The industrial site is conveniently located halfway between Anderson and Greenville, SC on highway 29 just off highway 85. The company welcomes customers and vendors to visit the facility and join in their success.The phone number remains 888-616-2321. All employee email, skype, and office phone numbers are not affected. Shipping and postal services have been alerted and forwarding will be in effect for recent shipments and correspondence.
"This new facility provides the industrial infrastructure we need to continue our growth," stated Alan MacDonald Director of Operations. "The ability to immediately expand with option for further growth made this an easy decision for 2016 and beyond." The new location will consolidate the office and production facilities. The new building provides room to grow, dock high capability, and a more central location in western South Carolina.
"We are pleased to remain in this rapid growth area of South Carolina," commented company President Aaron Meltzer. "Our commitment to continue our US based design and production is accented by this local move."
About Lumvatech
Lumvatech is a leading U. S. based manufacturer of ultra thin planar light panels for LED backlighting. Proprietary technology allows custom thin solutions for human machine interfaces with dome, membrane, and electronic touch switches, logo nameplates, and POP display lighting. Lumvatech products are available exclusively to the HMI and advertising production channels.
To gain additional information please see lumvatech.com or click for CONTACT INFO.
To view Lumvatech product portfolio CLICK HERE to visit the Lumvatech channel at YouTube or search for our company presentations on SlideShare.