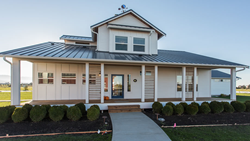 Tim's designs are already earning rave reviews from our customers.
Sequim, WA (PRWEB) October 14, 2015
Award-winning design build firm Estes Builders has announced that Tim Lin has been hired as the company's in-house architect. Lin joined the Western Washington custom home builder last month. According to company President Kevin Estes, Lin was hired as part of the company's ongoing commitment to deliver the best customer experience of any local custom home builder.
"Our company is driven by excellence in design, construction, and business systems. Tim is that rare individual who possesses a beautiful design aesthetic and business acumen. The result is a beautiful, unique home for each customer that is delivered on time and on budget. Tim's designs are already earning rave reviews from our customers." said Estes.
Lin, who has been licensed and LEED certified since 2008, graduated with a Masters in Architecture from the University of South Florida. He also holds an MBA from Wake Forest University.
In his new role Lin will work directly with customers to design custom homes to be built in Sequim, Bainbridge Island, Port Townsend, Port Ludlow and throughout Western Washington.
"As an architect it's exciting to collaborate with our customers and to translate their vision into their dream home. I am proud to be part of a team that has achieved a reputation for excellence and craftsmanship within the industry and the community. This gives our customers more confidence and peace of mind during the design build process." said Lin.
In addition to his experience in residential design Lin's portfolio of work includes institutional, education, and athletic design. His projects have included a school dormitory, stadiums, and college classrooms.
For more information about custom home design build services in Western Washington visit estesbuilders.com
Estes Builders is Western Washington's most trusted custom home builder with more than 100 customer testimonials. Estes Builders has been awarded the coveted National Housing Quality Award, America's Best Builder Award, the Avid Ratings Custom Builder Diamond Award, and has ranked in the top 5% of builders nationwide for customer satisfaction. Learn more at http://www.estesbuilders.com.