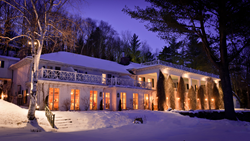 Storm watching and ice fishing are two luxury experiences US travelers can enjoy in Canada this winter, thanks to the strong US dollar.
Tofino, B.C. and North Hatley, Quebec (PRWEB) October 15, 2015
The Wickaninnish Inn and Manoir Hovey, two luxury Relais & Châteaux resorts in Canada, are offering a number of special packages this fall and winter. Travelers can take advantage of the still strong US dollar to experience activities such as ice fishing, foraging, storm watching, and Nordic spa treatments.
At the Wickaninnish Inn, guests can don rain gear and get up close to the 25-foot swells that pound the shores. Long beloved by storm watchers, the inn is perched on the rocks above the Pacific Ocean in Tofino, on Vancouver Island's rugged west coast, where the temperate weather makes it an ideal year round destination.
Those who prefer a quieter (and cooler) adventure can take ice fishing lessons at North Hatley's charming Manoir Hovey, just 20 minutes from the Vermont border in Quebec's Eastern Townships region. Artisanal seafood pizza is prepared on a huge wood stove that sits on skis on the frozen Lake Massawippi. Guests enjoy hot beverages as they are charmed by the stories of a charismatic local guide. After dinner, they can relax with a cocktail in the Tap Room Pub, where they'll find all the fixings for making s'mores.
Guests at both properties can also enjoy guided walks to forage for wild edibles and learn about how these delicacies contribute to innovative regional cuisine.
Manoir Hovey guests can walk the grounds with Chef Francis Wolf, whose bold Quebec cuisine features regional ingredients, including rare plants, wild mushrooms and syrup made from the birch trees on the property. Complimentary foraging walks take place each Saturday in season at the resort.
Nature's bounty is also at the heart of culinary delights at the Wickaninnish Inn, where Executive Chef Warren Barr makes use of local and organic ingredients in creating the resort's much acclaimed dining experience at The Pointe Restaurant. Guided foraging walks are among the activities offered to guests.
The Wickaninnish Inn: "Rustic Elegance on Nature's Edge"
Owner Charles McDiarmid had the powerful sea in mind in 1996 when the Wickaninnish Inn was built on rocks overlooking the Pacific shore, where the fury of winter puts on a wondrous show from November through February. Full rain gear is provided in each guest room for those who want to get up close and personal with the waves and gale-force winds.
The Pointe Restaurant has 240-degree views of the sea below with the pounding of the surf pumped in through a state-of-the-art sound system. Guests can also watch storms from the comfort of a deluxe fire-warmed guest room. No matter how a traveler takes it in, the view is spectacular, with nothing but ocean between Vancouver Island and Japan. Storm watching at the inn was named a Signature Experience by the Canadian Tourism Commission.
A special Storm Watchers package, starting at $775 CAD (about $598 USD), includes two nights at the inn, breakfast for two, wine, a plate of local cheeses, two oilskin hats and a book about the Pacific Reef. (Wickaninnish package prices are based on double occupancy).
For connoisseurs of local delicacies, the Wickaninnish Inn offers the Forage and Feast Package. Included are accommodations for two nights and a foraging walk, along with a five-course tasting menu, a keepsake and passes to the award-winning Tofino Botanical Gardens. The Gardens encompass twelve acres of forest, gardens and shoreline and are dedicated to the conservation of plants native to temperate coastal rainforests. Forage and Feast packages start at about $1,000 CAD (about $775 USD).
Manoir Hovey: Romance and Relaxation
One of Canada's most romantic inns, the five-star Manoir Hovey features an award-winning restaurant that is surrounded by English gardens and overlooks Lake Massawippi.
Among the unique offerings by the resort is the Ice Fishing package, which features a personalized four-hour lesson with an experienced local guide. Equipment, snacks, hot beverages, and artisanal seafood pizza are included, as is a four-course dinner at Le Hatley restaurant, overnight accommodations, and a full country breakfast. Ice Fishing package rates start at $280 CAD (about $215 USD) per person, based on double occupancy.
Manoir Hovey guests can also experience a wood-heated sauna treatment that features a plunge into a cold-water outdoor pool followed by a steam bath, where guests can relax in a natural setting. The Nordic Spa package provides an experience in Quebec that is inspired by international cultures. The package includes a night's stay at Manoir Hovey along with a four-course dinner and country breakfast, as well as a full day at a leading Nordic spa and an hour-long couple's massage. Package prices start at $325 CAD (about $250 USD) per person, based on double occupancy.
About the Wickaninnish Inn
Perched on the rugged west coast of Vancouver Island near Tofino, the Wickaninnish Inn is a year-round destination exemplifying "rustic elegance on nature's edge." A member of Relais & Châteaux since 1997, the Inn is owned and managed by Tofino's McDiarmid family and is exclusively located on beautiful Chesterman Beach.
http://www.wickinn.com.
About Manoir Hovey
Located just 75 minutes from Montreal, Manoir Hovey is a five-star Relais & Châteaux property on the shores of Lake Massawippi. One of Canada's most charming and romantic inns, it has 37 beautifully appointed rooms and suites, year-round activities, and hosts weddings, conferences and special events. Its award-winning restaurant, Le Hatley, showcases the finest regional cuisine and extensive wine list. Overlooking the lake and surrounded by English gardens, the dining room has a tranquil setting with breathtaking views.
http://www.manoirhovey.com