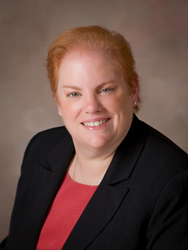 Wethersfield, Conn. (PRWEB) October 14, 2015
Qualidigm, the mission-driven healthcare consulting company in Wethersfield, Conn., today announced that Ann Spenard, principal and vice president, has been named by Sacred Heart University to receive the College of Health Professions 2015 Alumni Leadership Award. This award recognizes alumni who demonstrate a commitment to excellence in their daily lives and use their knowledge, professional skills, creative talents and humanistic strengths to make a difference in their communities and careers.
Spenard received her Master of Science in Nursing and is currently pursuing a Doctorate of Nursing Practice at Sacred Heart University. She has been a Registered Nurse in long-term care and geriatrics for 32 years and has made significant contributions to the field of nursing through her leadership on national quality, patient safety and data validation projects. Spenard led the adaptation of the TeamSTEPPS® curriculum for long-term care and is a master trainer for the curriculum. She has also taught nationally to providers groups and the Centers for Medicare and Medicaid Services.
"It is an honor to receive this award from Sacred Heart University. The school is my alma mater and also the university I chose to pursue doctoral studies; I credit its excellent scholarship in helping me advance my career as a geriatrics specialist," said Spenard.
"I am proud of Ann for receiving this well-deserved honor from Sacred Heart University," said Tim Elwell, Qualidigm president and CEO. "Ann is a well-known and trusted leader in long-term care quality improvement initiatives. We are fortunate to have her on the executive team at Qualidigm."
Spenard and her fellow 2015 Sacred Heart Alumni Award honorees will be recognized at the Annual Awards Luncheon on October 16, 2015. See the 2015 Alumni Award honorees.
About Qualidigm:
With its corporate headquarters in Wethersfield, Conn. and offices in Concord, NH; Barre, VT; and Providence, RI, Qualidigm's mission is to improve the quality, safety, and cost-effectiveness of healthcare through transformational change. Qualidigm provides consulting services to public and private sector clients nationwide. These services include consulting, data analysis, health information technology, patient safety, quality improvement, and utilization review. Qualidigm is part of a team that is serving as the Medicare Quality Innovation Network Quality Improvement Organization (QIN-QIO) under contract with Centers for Medicare and Medicaid Services for New England. Qualidigm is also a Patient Safety Organization (PSO) as designated by the State of Connecticut. http://www.Qualidigm.org
###