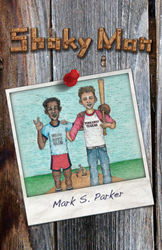 Dallas, Texas (PRWEB) October 15, 2015
Author Mark S. Parker recreates what life was like growing up in 1960s Central Texas in his engaging children's book, Shaky Man (Brown Books Publishing Group). The main character, Top, hears rumors about Shaky Man that strike fear into his heart, such as how he eats small children, murdered his wife, and mistreats his dogs. Top doesn't entirely know what to think about the rumors. He's too busy settling into his new home in Tonkaway, Texas, playing baseball, and making friends.
The book explores segregation, baseball, relationships, and social topics that took place during that tumultuous era. Top befriends a black boy named Mickey, which Parker says unexpectedly became a key relationship in the book.
"It would have been unusual for such a friendship to have sparked in the 1960s. Schools were segregated, and, were it not for the Boys' Club, Top would have never met Mickey," explained Parker. "The book tries to point out all of the commonalities we share, regardless of race."
"As an educator and parent of young readers, this book is a must-read in teaching our kids about tolerance and acceptance," states New York City public school teacher Maria Bellia Abbate.
Inspired by his grandchildren, Parker wanted readers, especially youths, to understand what life was like back then and that, today, we should learn to accept everyone for who they are.
"Shaky Man is every man. Everyone has a flaw, a defect that they want the world to overlook. We all want to be understood the way Top comes to understand and appreciate many characters in the book," said Parker.
Shaky Man translates well to topics that are still relevant today, and Parker hopes the book allows readers to view their lives from a different perspective. "Books can change our lives and outlooks. I would hope that readers would come away with a renewed sense of joyful tolerance."
Shaky Man timelessly reaffirms the basic goodness of humanity and the importance of friendship and compassion in the face of prejudice.
For more information on Shaky Man by Mark S. Parker, please visit http://www.MarkSParker.com.