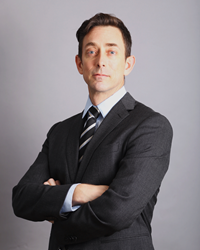 I am not a LinkedIn guru. I'm just a marketing guy who wants to help information professionals make the most of the often misunderstood value of LinkedIn."
Tarrytown, NY (PRWEB) October 14, 2015
InfoDesk, in cooperation with the Special Libraries Association's Pharmaceutical & Health Technology (PHT) Division, will present complimentary Lunch & Learn webinar, "Secrets of LinkedIn for Information Professionals Revealed" on Friday, October 30 at 12:00 p.m. EDT. Learn more and register online.
The webinar is designed to help information professionals, including librarians and competitive intelligence professionals, understand the value of LinkedIn networking. The webinar will demonstrate how LinkedIn can be used as a professional development and audience development tool—even for non job seekers.
"Many information professionals see LinkedIn merely as a place to find a new job," said webinar speaker Sean Smith. "What they don't realize is, LinkedIn is one of the easiest and most powerful ways they can enhance their professional development opportunities within both their current organizations and their industries."
This webinar will provide practical steps that information professionals should take to improve their LinkedIn profiles, connect with many, many more of their current colleagues and peers, and stay connected to reinforce the value they provide their audiences.
Additionally, this webinar will discuss other topics, including when to build your network and why, how to make your profile more appealing, who to connect with, how to make more new connections, some common mistakes to avoid, and what to do once you're connected.
It will feature speaker Sean Smith, Vice President of Marketing at InfoDesk. Smith is also the PHT Division PR Chair and 2015 Spring Meeting Program Chair. He has studied LinkedIn Strategy and helped companies and individuals optimize their LinkedIn profiles and create more effective networking strategies and communications.
"I am not a LinkedIn guru," said Smith. "I'm just a marketing guy who wants to help information professionals make the most of the often misunderstood value of LinkedIn."
This Lunch & Learn webinar will be moderated by Magan Stephens, PHT Division Continuing Education Chair. It was developed as part of the PHT Division's Continuing Education Programming. The complimentary session is open to all, but preference will be given to current PHT members. The webinar will be recorded and made available online following the event. Register now – Space is limited!
For more information please contact Sean Smith at sean(dot)smith(at)infodesk(dot)com.
###
About InfoDesk
InfoDesk specializes in information management solutions that help organizations integrate, deliver and share content resources more quickly, cost effectively and securely. For more than 15 years InfoDesk has helped some of the largest multinational corporations, top government agencies and media companies integrate, deliver and share large volumes of information more effectively. InfoDesk is based in Tarrytown, NY with offices in London and Washington DC.
About PHT
The Pharmaceutical and Health Technology (PHT) Division of the Special Libraries Association (SLA) provides a forum for the exchange of information and ideas among individuals interested in the collection, storage, retrieval, analysis, and dissemination of information in all aspects of the pharmaceutical, biomedical, biotechnical, cosmetic, medical device, and other health care fields. PHT is involved in all aspects of information science, as related to education, research, business and marketing in health care.