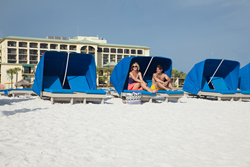 St. Pete Beach, FL (PRWEB) October 15, 2015
Sirata Beach Resort in St. Pete Beach, FL, is offering special incentives to guests who stay at the property during Thanksgiving week. Guests can receive a third night free when they stay at Sirata between November 22 and November 29, 2015. Additionally, the resort, which overlooks the white sands of St. Pete Beach, is hosting two special meals for Thanksgiving: a buffet in the resort's Majestic Ballroom on Thanksgiving Day, and a Thanksgiving Dinner that evening at Compass Grille, an onsite venue serving contemporary American fare.
In addition to its Gulf Coast location, Sirata Beach Resort offers comfortable rooms and suites with thoughtful amenities. Guestrooms include touches like cable TV, Wi-Fi access, complimentary coffee and more. An array of activities and attractions, such as shopping and entertainment venues, are in close proximity to the resort.
The Thanksgiving Buffet will be held in the Majestic Ballroom, one of Sirata Beach Resorts most expansive event spaces. The buffet will be from 11 a.m. to 5 p.m. Items to choose from include traditional fall flavors like honey baked ham and roasted turkey paired with Southern-style cornbread stuffing. Other entrée options that will be available are pan seared salmon and carved slow roasted baron of beef.
The feast continues at Sirata's Compass Grille from 5 p.m. to 10 p.m. the same night. The evening's menu boasts an array of entrees from grilled center-cut pork chops and roasted turkey to slow roasted prime rib, Cajun deep fried turkey breast and pan seared salmon, all prepared and served with enticing accompaniments. Diners will also enjoy garlic French bread, soup or salad, and a choice of dessert with their meal, including options like Southern-style pecan pie or strawberry cheesecake.
With a third night free and traditional Thanksgiving meals, guests are sure to enjoy their holiday at Sirata Beach Resort. To take advantage of this special offer, please visit Sirata Beach Resort online to book, or contact the property via phone at (855) 647-3498.
Sirata Beach Resort is a multifaceted St. Pete Beach resort overlooking the Gulf of Mexico. The resort features spacious conference rooms as well as a premier dining restaurant, Compass Grille, a seasoned American dining destination with chef-inspired contemporary fare. Sirata Beach Resort is a quality destination for travelers to enjoy St. Petersburg, Florida, and the Gulf Coast.