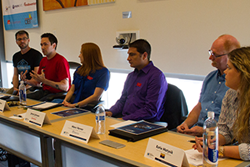 Scottsdale, Ariz. (PRWEB) October 14, 2015
Five local employers from a wide range of industries came together on Wednesday, Sept. 30, to provide valuable resources and interview opportunities for Maricopa Corporate College's recent Web Developer Boot Camp graduates.
The panel included representatives from trendy, technology companies Axosoft and meltmedia, from government entities Arizona State Department of Administration and Paradise Valley Community College, as well as from State Farm. The event consisted of an hour-long panel discussion followed by one-on-one interview sessions at the Center for Entrepreneurial Innovation(CEI).
Throughout the panel discussion, students learned more about each organization and how they would fit into their company culture. Some students were concerned about topics such as tuition reimbursement, while others asked about their ability to be creative and work on side projects. With each answer, the recent graduates began to see which type of organization would be the best fit for them.
Following the discussion, each student was interviewed by three of the panelists. Some of these interviews were mock interviews purely for the students' benefit; however, many of the panel participants were interviewing with the intent of finding qualified candidates to fill open web developer positions within their companies.
Data Specialist Jason Johnson, Web Developer Stephanie Saur, and their employer State Farm, for example, participated in the panel in hopes of matching qualified candidates to job opportunities within their organization.
"State Farm believes in assisting programs to empower communities by providing them with the resources and education that they need," Johnson said.
In the one-on-one interviews, Johnson and Saur assessed each candidate and recommended the open positions at State Farm for which the student would be most competitive. Once they apply online, Johnson and his team intend to route qualified students he met at the event to first- or second-round interviews.
Katie Matysik from the Arizona State Department of Administration offered similar opportunities to the recent graduates on behalf of the State of Arizona. Matysik, who recruits IT professionals on behalf of 130 state agencies, boards, and commissions, hopes to continue communicating with the boot camp graduates to help them find positions within the State.
"With so many job boards and applicant tracking systems, folks often feel like they are just sending resumes into a black hole," Matysik said. "I am always looking for ways to meet with folks on a personal level and give them a contact person on the inside."
Cooperative efforts such as this one that bring educational providers and employers together also benefit employers, as it works to address the critical shortage of skilled technology professionals throughout the state. It is this shortage that led Matysik to the MCOR Interview Event.
"I think it is a good way to meet folks that are interested in these roles and want to learn more about the opportunities that are out there," Matysik said. "At the same time it is a great way for me to show why we would be the employer of choice for them when they are ready to take on this new career change."
Local technology company, meltmedia, informed the recent boot camp graduates of open positions within their organization as well.
The company, which boasts a workspace that features office scooters for employees to get around and office dogs to keep a light-hearted environment, is always looking for ways to enhance its community both within and outside of the company itself. Participating in the MCOR Interview Event is one such way in which meltmedia hopes to enhance the Arizona technology community.
"We are committed to our community, and to helping develop folks in our industry into mature professionals who are skilled enough to work at the top tech companies in the country," Matthew Rausch, director of human resources at meltmedia, said.
About Maricopa Corporate College (MCOR):
From entry-level to executive training, MCOR delivers market-relevant, customized workforce solutions and education for employees in virtually every industry sector. Through a strategic business partnership model, MCOR assesses workforce training needs and develops and delivers customized and integrated solutions to meet those needs throughout all levels of an organization. MCOR is part of the Maricopa Community Colleges — one of the largest higher education systems in the nation with nearly 250,000 students, and a model of excellence internationally.