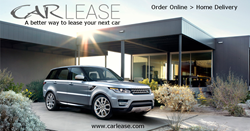 Leasing your next vehicle has never been easier!
Chicago, Illinois (PRWEB) October 15, 2015
Customers commonly complain about the vehicle lease acquisition process. Dealerships offer limited selection, biased advice and lease quotes that tend to never to match the advertised price or that progressively get worse at every stage of the sales process.
The nation's leading car leasing company, Carlease.com, LLC, seeks to change that. Gone is the time-consuming and haggle intensive leasing process offered by dealerships, and enter the pain-free, and transparent leasing process offered by Carlease. At Carlease's recently re-launched website at http://www.carlease.com, customers can now research and configure vehicles across ALL vehicle manufactures, request unlimited lease quotes, and place an order for their desired vehicle directly online without ever stepping foot in a dealership.
All Carlease vehicles are brand new and are delivered straight to the customer's doorstep, where an experienced technician completes the necessary paperwork with the customer and explains the new car's features and technology. And customers have responded with enthusiasm. While only recently founded in late 2013, Carlease is already booking more vehicle leases on a month-to-month basis than 95% of the dealerships in the country.
"We have left behind the 'old school' vehicle acquisition model for good," commented a spokesperson from Carlease.com. "No longer must a customer waste endless hours traveling from one dealership to the next to find the perfect car or to obtain competitive lease quotes. With Carlease.com, consumers can research and configure vehicles across all makes and models, and then execute an entire lease transaction online. With the Carlease process, consumers save money AND TIME."
According to the company, Carlease maintains a team of experienced sales personnel, ready to dish out unbiased advice. And when you want a quote, Carlease uses proprietary software to compare available lease quotes across multiple financiers—all to assure that the customer receives the very best financing terms available. Once a customer settles on an appropriate vehicle, the company locates the desired car from among its large network of dealerships and then schedules the car for delivery straight to the customer's home or office. A Carlease technician then drops-off the brand new car and complete all the necessary paperwork with the customer in a short 15-minute session. The Carlease technician will even program the vehicle's garage door opener and cellular Bluetooth features. It's that easy! Have a trade-in? No problem, Carlease will provide you with a fair price sight-unseen; and if acceptable, will pick up your used car at the time of delivery of your new car.
Carlease is presently serving retail customers throughout the Midwest and commercial accounts throughout the country. Carlease.com plans to expand into 14 new markets over the next several years.
For more information, please visit http://www.carlease.com.
###