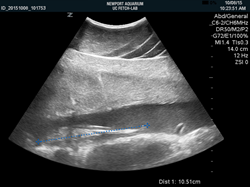 We are cautiously optimistic that both Sweet Pea and Sunshine will give birth to healthy shark ray pups.
NEWPORT, Ky. (PRWEB) October 14, 2015
Newport Aquarium announced Wednesday its two female shark rays, Sweet Pea and Sunshine, are both pregnant – the second and third documented cases of shark ray breeding under professional animal care in the world.
"This is an exciting next step in realizing the goals of our Shark Ray Breeding Program," said Eric Rose, executive director at Newport Aquarium. "Still, pregnancy is not without risk, so we are cautiously optimistic that both Sweet Pea and Sunshine will give birth to healthy shark ray pups. Newport Aquarium is dedicated to the conservation of these threatened animals and we remain committed to sharing the shark rays' story of survival."
Newport Aquarium animal husbandry staff confirmed the pregnancies after performing ultrasounds for Sweet Pea on Oct. 1 and Sunshine on Oct. 8. Newport Aquarium veterinarian Dr. Peter Hill, who conducted the ultrasounds, estimates Sweet Pea and Sunshine's due dates are within two to three months, with Sweet Pea expected to deliver first. The equipment used to conduct the ultrasounds was on loan from the FETCH-LAB at the University of Cincinnati's College of Allied Health Sciences.
Shark rays are a vulnerable species on the IUCN Red List of Threatened Species, one level from endangered. Threats to shark rays include habitat destruction, pollution, overfishing and the use of their fins for products, including shark fin soup.
"With the world's shark ray population depleting at a faster rate than it's being replaced, the Shark Ray Breeding Program is important because it helps us better understand the life cycle of shark rays and closely related species," said Ric Urban, chief conservation officer at Newport Aquarium. "The knowledge gained from this program will be valuable information for the sustainability of shark ray populations in the wild."
The public can still see Sweet Pea and Sunshine in the Surrounded by Sharks exhibit now through a to-be-determined time closer to their due dates, at which point they will be moved to Newport Aquarium's offsite animal health facility in Northern Kentucky.
Newport Aquarium established the world's first Shark Ray Breeding Program on Feb. 14, 2007, when a male shark ray named Scooter was introduced to the 385,000-gallon Surrounded by Sharks exhibit. The breeding program expanded in winter 2013 when Sunshine moved from the Coral Reef tunnel to Surrounded by Sharks and a second male shark ray named Spike also was introduced to the Aquarium's signature exhibit.
Nearly seven years after Newport Aquarium established the Shark Ray Breeding Program, Sweet Pea became the first shark ray to give birth while under professional animal care on Jan. 24, 2014.
For more information on Newport Aquarium, visit NewportAquarium.com or call toll free 800-406-FISH (3474).
###
Newport Aquarium has showcased thousands of animals from around the world in a million gallons of water since May 15, 1999. Named one of the best aquariums in the U.S. by Travel Channel and USA Today, Newport Aquarium is a Herschend Family Entertainment company and an accredited member of the Association of Zoos and Aquariums. Newport Aquarium is open to the public 365 days a year and located across the Ohio River from downtown Cincinnati at Newport on the Levee.
One Aquarium Way | Newport, KY 41071 | 859-261-7444
http://www.newportaquarium.com