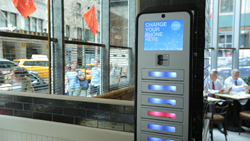 Brightbox offers consumers and marketers a best-in-class, trifecta solution: secure mobile re-charging coupled with engaging digital signage and compelling customer interactivity.
New York, NY (PRWEB) October 14, 2015
Brightbox, Inc. (http://www.brightboxcharge.com), a New York based B2B kiosk technology company and the leading global platform provider of networked, secure mobile device recharging and engagement solutions, is pleased to announce that it is the official charging sponsor of the 2015 Shopper Marketing Conference and Expo taking place at the Minneapolis Convention Center, October 13th to the 15th, 2015 in Minneapolis, MN.
"Brightbox offers consumers and marketers a best-in-class, trifecta solution: secure mobile re-charging coupled with engaging digital signage and compelling customer interactivity," said Billy Gridley, CEO of Brightbox. "Our robust and comprehensive digital engagement platform features unrivaled physical security, the strongest data-privacy regime and 99.9% amenity uptime."
The Brightbox® Mark3 mobile charging platform is the world's most advanced, innovative and secure mobile device recharging solution available, providing a network for on-the-go people to stay connected via their mobile devices, including cell phones, phablets, backup chargers and batteries. The PCI compliant, UL and agency certified stations meet the highest standards for security and safety, and employ the strongest cryptography to ensure the physical and data integrity of phones being charged. They offer retractable charging cables and large chambers that can accommodate nearly any mobile device, including the latest phablets, while delivering the safest and quickest charge possible at the fastest optimized manufacturer's recommended rate, which is twice as fast as any inductive charging technology in the marketplace.
Complimentary unlimited time charging sessions via the Brightbox amenity is available at the Brightbox Booth #634 and other locations throughout the 2015 Shopper Marketing Conference and Expo. Users simply swipe a credit card to open an available station chamber, plug in their mobile device, close the chamber and return later to swipe the same card to retrieve their charged phone.
Thousands of brand and retail marketing executives, along with agencies and solutions providers will converge to network, attend symposiums, keynotes, and seminars presented by industry experts, as well as find business-driven solutions at the expo of over 100 exhibitors. Attendees can continue to go to meetings, network, eat and work, resting assured that their phones are being safely and optimally charged in a station that delivers both data privacy and physical security.
The Brightbox® Mark3 features a 10" interactive touch screen, with messaging capabilities that provide effective delivery of direct sponsor videos, slideshows, surveys, customer acquisition, brand offers and product promotions. Venues and experiential marketers can leverage intimate and seamless interactions between consumers and the Brightbox charging kiosk, choosing how to project brand image via an innovative menu of content and interactivity options, for high impact and measurable ROI.
"Discerning brand sponsors, venues and users demand and deserve a highly trustworthy and intelligent smart device re-charging amenity," said Mr. Gridley. "To protect and promote brand confidence, leading hotels, restaurants and casinos can no longer afford to deploy low-tech solutions which do not fully meet the consumer needs of today."
At the Shoppers Marketing Conference and Expo, Brightbox is showcasing omni-channel interactivity features like customer surveys, sweepstakes, newsletter enrollment and instant coupon distribution via email or SMS. In partnership with industry leading beacon technology providers, it can also message consumers and attract them to the Brightbox for additional interaction and product information, increasing the options available for engaging today's mobile connect shoppers.
"We're delighted to be the charging amenity for Shopper Marketing—connecting with top marketers, agencies and brands and meeting all their charging needs," said Anthony D'Eramo, Hospitality Sales Director of Brightbox. "They'll be able to experience all the ways omni-channel interactivity can help forward thinking brands more effectively connect with customers."
"Brightbox charging stations are definitely one of the best amenities to have in a high profile hotel in this technology driven market," says Pejman Tristan Parvazi, Western Region Cluster Manager, Hilton Hotels and Resorts. "The combination of convenience, style, and user friendliness, topped with great support and not having to worry about all the security and liability issues, is what makes Brightbox awesome!"
About Brightbox
Brightbox® is a B2B kiosk technology company providing venues and users with best-in-class mobile device recharging services and a robust engagement platform for marketing, sponsorship and venue digital signage and interactivity. Founded in 2011, Brightbox delivers advanced and innovative solutions and has deployed its secure recharging kiosks in 5 countries and 27 states in a variety of event and vertical markets that include retail, hospitality, entertainment, healthcare, education, transport and beyond.
Enterprise customers include Dream, Hilton, Hyatt, Omni, Sheraton, Caesars, MGM, Coca-Coca Company, Christie's, Heineken, LA Fitness, Planet Hollywood, RadioShack, Statue of Liberty, Stop'N'Shop, Time Warner Cable, Universal Studios, Westfield Malls, New York Red Bulls, Round Rock Express, Staten Island Yankees, Tampa Bay Rays, Baystate Health, Mount Sinai Health, Orlando Health, Yale New Haven Health, Columbia University, CUNY, American Airlines and British Airways. Event customers include AOL, BBC Comic-Con, CEDIA, Citibank, Coca-Cola Company, Detroit Grand Prix, Discovery Channel, Event Tech, FISH Technologies, Gartner, GO PUCK, HBO, IBM, IMEX, iHeartMedia, InCharged, Intel, Major League Baseball, Minor League Baseball, NFL Experience, Pitney Bowes, Octagon SXSW, PCMA, So Cool Events, Samsung, Societe Generale, T-Mobile, UBS, Uber, Verizon, Vidcon and Wells Fargo. Learn more at http://www.brightboxcharge.com or @brightboxcharge
About Path To Purchase and Shopper Marketing Conference
The Path to Purchase Institute is a global association serving the needs of brand manufacturers, retailers, agencies and the entire ecosystem of solution providers along the path to purchase. We foster best practices and a deeper understanding of all marketing efforts that lead to a purchase in-store or online.
The Shopper Marketing Conference & Expo is the only event that gathers all the right industry players in one place. Forward-thinking companies send large cross-functional
teams of decision-makers to Expo to soak in the know-how from hundreds of world-class shopper marketing experts, researchers and practitioners.
The Shopper Marketing Conference & Expo attracts nearly 4,000 marketers, agency
executives and retail professionals who develop shopper strategy along the path to purchase.