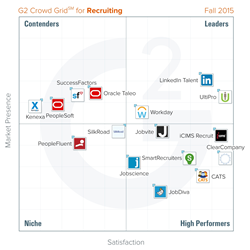 CHICAGO, IL (PRWEB) October 14, 2015
The updated GridSM report for recruiting, published today by business software review site G2 Crowd, ranks 16 products to help purchasers in their software selections. UltiPro, LinkedIn Talent and Workday were named Leaders in the report, receiving strong customer satisfaction scores with a large market presence. Additionally, iCIMS Recruit, ClearCompany, SmartRecruiters, Jobvite, CATS, Jobscience and JobDiva were named High Performers, earning strong customer satisfaction marks with a smaller market presence score. Overall, UltiPro and ClearCompany tied for the highest overall Satisfaction score while LinkedIn Talent earned the highest overall Market Presence score.
The Fall 2015 GridSM report is based on more than 450 reviews written by HR and business professionals. Of the roughly 120 products listed in G2 Crowd's Recruiting Software category, the ranked products each received 10 or more reviews to qualify for inclusion on the GridSM.
The GridSM factors in customer satisfaction reported by users, along with vendor market presence determined from social and public data to rank products. Based on a combination of these scores, each software solution is categorized as a Leader, High Performer, Contender, or Niche.
Key findings revealed that job posting and application tracking remain the two highest rated features on average for recruiting software users. Among recruiting tools focused on catering to enterprise companies, ease of use was a strong indicator of customer satisfaction. The ease of use for each of the top three enterprise-focused products was higher than the category average of 81 percent.
Additionally, user reviews and data increasingly cited reliable mobile capability – both on mobile browsers and mobile applications – as a key concern when assessing recruiting software products.
Since the Spring 2015 Recruiting GridSM report, ClearCompany, Workday, SmartRecruiters, and JobDiva have been added to the GridSM.
Some highlights from recruiting software reviews on G2 Crowd:
"UltiPro has completely streamlined our recruitment process. I like that it has the ability to perform everything in one system (performance management, core HR, payroll, etc). I also appreciate the fast response to issues from the UltiPro customer service team."

Kristen H., Human Resources Specialist at LB Foster
"LinkedIn Talent is the most useful product that I use for recruitment. There are so many passive candidates that you can find so easily, that you would never have been able to find even five years ago. LinkedIn really is one-of-a-kind in the number of members that it has. Additionally, I really like the way it allows you to create projects, notes, and send multiple messages at once. It helps to be able to keep your candidates organized."

Allison R., Recruiter at Isobar
"Workday is built for technology of the 21st century. For example, they have a "mobile first" strategy, meaning they build software for the mobile platform and retrofit to the traditional computers. Additionally, the UI is fairly intuitive to the employees, and it is easy to turn on new modules fairly quickly. Being a SaaS solution, upgrades are easy and frequent and so we are always on the latest version. There is also a very active user community that makes it easy to collaborate with other Workday customers."

Indira G., HRIS Manager at Silicon Valley Bank
"Recruiter friendly! My team is much more efficient! The [iCIMS] platform allows for us to manage a high number of applicants and a high number of vacancies seamlessly. The reporting feature is easy for anyone on the team to use and I enjoy having so many metrics right on my dashboard."

Tina S., Recruitment Manager at Kennedy Krieger Institute
"The best feature Clear Company offers is the automated on-boarding system. Fully integrated with the recruiting module, on-boarding can be initiated in a few simple clicks. You can fully customize the documents and tasks being sent to new hires, add and remove tasks at any time and can even have online forms created to make completing on-boarding paperwork simple for the new hire to complete."

Matthew L, Recruiting Coordinator at Applied Technical Systems
Premium research on recruiting software can be purchased on the G2 Crowd website for $599. This offers the original data for filtering and weighting, as well as individual profiles of each platform with the most helpful positive and negative reviews, detailed company information, user satisfaction ratings, feature scores and customer metrics. Future refreshes of the GridSM will provide updated rankings based on the latest reviews and social data.
Be sure to check out the new GridSM for recruiting product analysis and subscribe to the premium research.
_______________
About G2 Crowd, Inc.
G2 Crowd, the world's leading business software review platform, leverages its 41,000-plus user reviews to drive better purchasing decisions. Technology buyers, investors, and analysts use the site to compare and select the best software based on peer reviews and synthesized social data. Co-founded by the founder and former executives from SaaS leader BigMachines and backed by roughly $12 million in capital, G2 Crowd aims to bring authenticity and transparency to business technology research. For more information, go to G2Crowd.com.