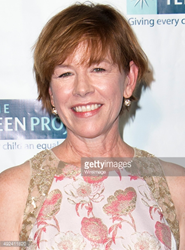 LOS ANGELES (PRWEB) October 14, 2015
October 14, 2015 - Known for her breakout role in "Sons of Anarchy", McNally Sagal is back after taking a much needed hiatus to raise her family. And she's back in a big way.
In ABC primetime crime mystery "Secret and Lies", McNally joins an already star-studded cast in the show's sophomore season. Secrets and Lies is a crime mystery anthology that follows a character accused of a crime through the entire season. "Secrets and Lies" Season 1 followed Eric Warner (Michael Ealy), a newlywed and heir to his family's private equity firm, who must mourn the murder of his wife while defending himself against a criminal investigation. Juliette Lewis co-stars as Detective Andrea Cornell, who is investigating the case. The pair are joined by a growing cast, that includes, Terry O'Quinn ("Lost"), Jordana Brewster ("Dallas"), Charlie Barnett ("Chicago Fire"), AnnaLynne McCord ("90210") and Kenny Johnson ("The Shield"). Not sure what season 2 will hold but if it's anything like season 1 it will not disappoint.
Sagal will also take on the role of Donna in Netflix's New Series " Lady Dynamite". Netflix has ordered the new comedy series starring comedian Maria Bamford and Fred Melamed. "Lady Dynamite" is based on the the life of the series star Bamford, and will be executive produced by Pam Brady, Mitch Hurwitz and Bamford. The comedy has already received a 13-episode order. "Lady Dynamite" is the latest addition to Netflix's original comedy lineup, which already includes "Unbreakable Kimmy Schmidt," "Grace and Frankie" and "BoJack Horseman."
###