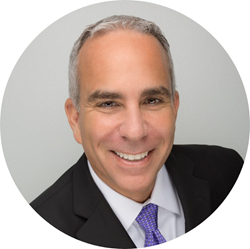 Larry brings to Denovo an ideal blend of consulting and cloud leadership experience that will assist us greatly as we continue to expand our service offerings
(PRWEB) October 14, 2015
Denovo announced today the addition of Larry Goldberg to its senior executive team as Executive Vice President, Consulting, Managed Services and Inside Sales. In this capacity, Mr. Goldberg will be responsible for strengthening all aspects of Denovo's consulting and managed services business encompassing Oracle's JD Edwards EnterpriseOne (JDE), Fusion, and E-Business Suite (EBS) Applications. He will report to Marty Snella, CEO, effective October 13, 2015.
Larry has more than 25 years of experience managing enterprise consulting teams in the software industry. In his most recent role at CenturyLink, Mr. Goldberg was responsible for Consulting, Pre Sales, and Business Operations within the Advanced Services business unit. Larry also served as a Partner at IBM within Global Business Services. For over 11 years, Larry cultivated his experience as a Vice President in various roles within Oracle's North America Consulting, Cloud Services, and License Sales organizations. Earlier in his career, Larry spent 9 years at MCI Telecommunications.
Larry's experience in consulting and cloud leadership with top enterprise software providers gives him a unique perspective into the dynamics of Denovo's business. His successful career is the result of a commitment to lead customer-focused sales and marketing initiatives that maximize customer value.
"I am pleased to welcome Larry Goldberg to our senior leadership team," said Marty Snella, Denovo's CEO. "Our experienced senior staff members are one of our most valuable competitive advantages. Larry brings to Denovo an ideal blend of consulting and cloud leadership experience that will assist us greatly as we continue to expand our service offerings."
"I look forward to working alongside Denovo's senior leadership team to provide a richer consulting and managed services experience for our customers. Businesses are constantly seeking more affordable ways to drive innovation. I feel confident that I can help shape Denovo's expansive portfolio to help organizations achieve greater business value with modern cloud solutions," said Larry Goldberg.
An early innovator of cloud solutions, Denovo's Cloud offers customers a choice of private, public or hybrid cloud. Their global network of data centers offers real-world reliability for mission-critical applications. Denovo will utilize their QuickStart™ platform to optimize and quickly standup Disaster Recovery solutions that get your data recoverable in a fraction of the time. This proprietary technology uses industry best practices while bypassing hundreds of hours of technical work in a one click - immediate deployment.
About Denovo
Established in 2003, Denovo Ventures, LLC is a full-service cloud computing and enterprise hosting professional services firm with extensive expertise in designing, installing, managing and supporting enterprise software solutions in private, hybrid and public cloud platforms. Denovo delivers technology and managed solutions from their SOC 2 certified data centers located in the United States and Europe. As an Oracle Platinum Partner, Denovo's professional services team has successfully completed over 800 Oracle ERP projects for a wide variety of commercial and public sector clients. The company is headquartered in Niwot, Colorado in the Denver-Boulder technology corridor and serves a worldwide client base from its East, Central, and West regional offices. Visit http://www.denovo-us.com for additional information.