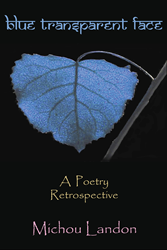 (PRWEB) October 15, 2015
Readers in search of authenticity and depth, can now head to Amazon or Barnes and Noble and order Michou Landon's recent collection of thought-provoking prose and poetry, Blue Transparent Face.
Blue Transparent Face is Michou's first widely-published collection of poems in book form. This slim volume is a first taste, a poetic memoir. As she opens into her second half-century, she offers us a sampler of poetry and essays— celebrations and prayers—from the first.
Blue Transparent Face is published by Cygnet Publications, (the publishing division of Cygnet Media Group, Inc.) and, as noted above, is available for purchase from Amazon and Barnes and Noble.
ISBN Print Book: 978-1-63020-005-3
ISBN eBook: 978-1-63020-009-1
For all other information, including media inquiries and requests for review copies, contact Michou Landon at taodaughter(at)gmail(dot)com.
About Michou Landon
Michou humbly dedicates her voice to Satsang: Truth amplified in the sharing. Her words alternately evoke ecstatic celebrations of transcendent beauty and mystery and unflinching observations of life's darker colors. Common to all these expressions is the well of depth and sacredness from which she draws.
Her media reviews and other contributions to Mount Shasta Magazine are archived on their website. Additionally, you may track her more current musings —poetic and prosaic—on her blog, Transcending the Furious Eskimo, at http://www.taodaughter.wordpress.com.
About Cygnet Media Group Inc.
Cygnet Publications works with new and established authors to provide cost-effective, comprehensive and customized programs to publish and promote their book in print and ebook format.
Through its business divisions, Cygnet Media Group offers self-publishing packages, video book trailer production, and author website development.
Cygnet Publications, your one stop shop for all things book, video and web.
Learn more at Cygnet Media Group.com