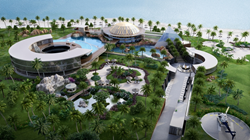 "In one leap of the imagination, Asetti created the Super Home." Briana James, Dolce Vita Diamond, London.
(PRWEB) October 20, 2015
Named Utopia, the Asetti designed super home has a whopping 15,000 sq.m of space. Enough to satisfy any billionaire, or movie star with a desire for the ultimate in luxury lifestyle.
Inspired by the dazzling villains pads in the James Bond movies, the house design was the result of over 1 year of research, by Asetti's architects and luxury house designers. Commissioned by a private client the home is still being developed and was a challenge to create something you would see in a Bond movie.
Chris Clayton head of design, or as he is fondly called Chris Asetti says his inspiration came from his love of Bond movies and a very colorful imagination.
Utopia is full of the wow factor. Each zone of the property provides a different function, yet all interconnected via walkways and a full automated home computer system.
"It was important to me to offer personal privacy in the design, so we added separate guest areas, pools and spas. It allows for privacy but at the same time, with the other facilities, community too if desired. It can be both a fabulous party house or a very private place for relaxation," continued designer Chris.
The list of exciting features are endless. All supported remarkably by renewable energy sources which include solar and wind power. Guests enjoy the best in comfort and lifestyle. They have their own gym, spa and infinity edge swimming pools. Each of the 12 guest bedrooms is a presidential suite, with living area, spa baths, rain showers and full suite home automation.
As well as guest areas there are luxurious owners accommodation with a variety of living spaces, spa baths, automatic doors, massage rooms and offices. There is even a private DJ booth, steam room, sauna, Jacuzzi, music recording studio, 3m high wall aquariums and full movie theater with 3D option. The property also boasts the ultimate in luxury living, a private helipad.
"Luxury home design is very much about comfort yet at the same time, we must be conscious of the environment. So we did our best to minimize the potential environmental effect of such a large property," said Chris.
Solar and wind power link to the main computer system and all power use is carefully monitored. Environmental design was a major consideration throughout the project.
For relaxation there is a an array of chill out areas. The island sanctuary sits in the center of a lake, full with lotus flowers and has its own secret grotto behind the waterfall. Glass elevators rise above the tropical interior garden, housed in a vast glass pyramid and there are even running water channels within the living areas of the home.
"We wanted to bring the calming voice of nature inside the home. So running water was a must. It helps sooth the mind and will create a wonderful ambiance," explained Chris.
Asetti are no new face to the luxury industry and recently been quoted in London's Dolce Vita Diamond Magazine, as the guys who created the Super Home.
Utopia is one of Asetti's new collection of luxury home designs. Equally as impressive is Atlantis with hidden power boat dock and free form design.
"Atlantis is one of my personal favorites. We discussed the Tony Stark home from the movie Iron Man. But naturally wanted it to be different. People say it should be called The Gucci house as it reminds them of Gucci's logo. But in fact the inspiration came from research into an ancient symbol dating back over 2500 years ago."
Asetti's gold collection was recently released covering both contemporary and more traditional design. In July of this year, Asetti launched their first luxury brand video and continue to provide exceptional design to those looking for that special, luxury lifestyle.
"Super homes are all about dreams. Our clients work exceptionally hard for what they have and one of the rewards is to have a fantastic place to call home. It's my privilege to help them create that," said Chris.
Asetti Asetti launch their gold collection in October in combination with the premier of the new Bond movie.