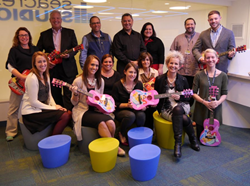 Wakefield, MA (PRWEB) October 19, 2015
The Advocator Group, LLC is delighted to donate 16 First Act Discovery guitars to Boston Children's Hospital, to be used as part of the Music Therapy Program. The Social Security Disability and Medicare Advocacy firm purchased the guitars for an annual company event that took place in August with the intention of ultimately using them to benefit the community.
The guitar donation was originally inspired by the theme of determination and the keynote speaker at The Advocator Group's event, musician Billy McLaughlin. McLaughlin shared his own powerful determination story of having to rebuild his music career by learning to play the guitar with his opposite hand after being diagnosed with Focal Dystonia, an incurable neuromuscular disorder.
Teammates at The Advocator Group were inspired by McLaughlin's story because they walk alongside individuals seeking financial security in the midst of battling disabling illnesses or injuries each day, and they were deeply compelled to share his message of seeking joy in the midst of difficult times.
This led to the donation to the Music Therapy Program at Boston Children's Hospital, so that children battling illnesses, fear, anxiety, and pain can enjoy the peace and comfort that music can provide and that they may simply enjoy the sounds or feel compelled to learn something new.
The Boston Children's Hospital Music Therapy program began 13 years ago as a small initiative, and has since grown into a program run by four dedicated employees with aspirations for more significant growth. The program conducts between 100-150 music therapy sessions each week with children in both inpatient and outpatient units.
Music therapy sessions typically occur on either a one-one-one basis with the patients, or include a family member. Children may both listen to and play the instruments, with the ultimate goal of bringing them joy and helping them relax their minds and bodies. These sessions are thoughtfully planned ahead of time in consideration of each patient's unique needs and goals, such as speech improvement, pain management, anxiety reduction, motor skills development, and more.
"Donating these guitars to Boston Children's Hospital was a natural extension of our August event," states CEO of The Advocator Group Julie Turpin. "We were all so inspired by Billy's message about determination and the way he shares his story with people all over the world, that we felt compelled to share our passion for service and perseverance with children who need it. Each day we provide assistance to individuals nationwide who are often overwhelmed by their circumstances, and now we are thrilled to be able to help the music therapy team soothe children and their families through music."
Program Administration Manager of the Creative Arts Programs at Boston Children's Hospital, Miranda Day, also expressed excitement over this partnership. Day states, "it is because of groups like The Advocator Group that the Music Therapy Program at Boston Children's Hospital can continue to serve patients and families. The whole program from staffing to instruments and other supplies is supported through philanthropy. We are so thankful for every contribution we receive so we can continue building this valuable program."
To learn more about the Boston Children's Hospital Music Therapy Program or how to make a donation, visit http://www.childrenshospital.org/patient-resources/family-resources/creative-arts-program/music-therapy.
To learn more about Billy McLaughlin and his music, visit http://www.billymclaughlin.com/.
ABOUT THE ADVOCATOR GROUP – The Advocator Group, LLC is a nationwide advocacy organization dedicated to helping individuals apply for and obtain Social Security Disability Insurance. In addition, The Advocator Group assists Medicare beneficiaries in identifying the best coverage possible for their unique needs. The Advocator Group's team of experienced Social Security and Medicare advocates ensures that each client is provided phenomenal service while each case receives close attention. The company's core values include creating opportunities, enriching lives, and growing through innovation. For more information, visit http://www.advocator.com.
###