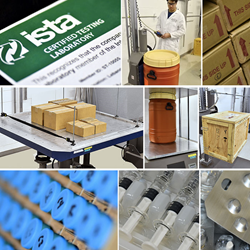 Since our founding, nearly fifteen years ago, our laboratory has partnered with companies across the globe to complete over 30,000 projects
(PRWEB) October 27, 2015
Whitehouse Laboratories celebrated the 5th anniversary of its dedicated Packaging and Distribution Testing Center of Excellence as hundreds of employees, business partners and valued guests gathered at the company's headquarters in Whitehouse, New Jersey. Joining Mark Stier, Whitehouse Labs COO, as he remarked on the company's rich history and the individuals and innovations that helped shape the business unit's success was Therese Abrenica, Director of Business Development and Eric Creveling, Director of the Packaging and Distribution Laboratory.
"As we celebrate five years with our self-contained dedicated Packaging Lab, it was truly gratifying to be surrounded by so many of those who played such a significant role in the success of this business unit," said Stier. "We are honored to have such talented and committed team members along with great business partners, who work every day to serve our valued clients and help advance our efforts in the industry."
"We are proud of the vast array of contract testing services that our laboratory has been able to provide to the life sciences community over the years. Since our founding, nearly fifteen years ago, our laboratory has partnered with companies across the globe to complete over 30,000 projects, assisting pharmaceutical, biotech and medical device manufacturers with contract testing to support product development and product launch," said Abrenica.
"Part of the mentality of Whitehouse Labs is reaching out to our clients and offering a consultative approach. We partner with our clients to provide technical expertise and individualized service to complement each client's unique needs. Every team member at Whitehouse is dedicated to providing the best possible service to our clients," said Eric Creveling, Director of the Packaging and Distribution Laboratory. "All capital for growth in our Packaging Lab has been generated from profits. Every new resource we have added over the past five years has been purchased as a result of our own capital generation. We couldn't have accomplished this feet without investing time and resources into educating and training our employees on teamwork, customer service and empowering out them with technical skills that lead to providing a premium service to our clients."
The entire Whitehouse Team considers our continued growth as a direct result of the loyalty of our clients, the sincere commitment of our team members and our continuous commitment to quality. Our team looks forward to the next five years and beyond, continually working closely with life sciences organizations to support the development and launch of life saving products and therapies.
About Whitehouse Laboratories
The Testing Partner to Life Sciences, Whitehouse Labs is an independent contract testing lab that is FDA regulated, DEA Licensed, ISO 17025 and ISTA certified offering testing services for the pharmaceutical, medical device, personal care and consumer product industries. Whitehouse Laboratories offers comprehensive analytical services for materials, finished products, container and package systems that enable our clients to meet and exceed the required quality standards established by the key regulatory agencies.
Visit our website at http://www.whitehouselabs.com, find us on Facebook or follow us on Twitter