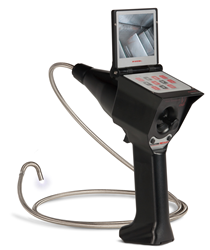 "looking forward to seeing our valued customers from the automotive industry." - Casey O'Tool
Traverse City, MI (PRWEB) October 16, 2015
The Automotive Testing Expo is an annual opportunity for car makers and parts manufacturers to get together and learn about technologies and services that can improve their businesses. 2015 is the 13th year that the expo has enabled business leaders connect with new products and services that will allow them to move closer to eliminating recalls in the auto industry and marks the 4th year the RF System Lab is showcasing the VJ-Advance Video Borescopes. The Suburban Collection Showplace in Novi, MI will house the exhibit hall, with the Crash Test Zone as well as an Open Technology Forum.
"Over 200 exhibiting companies will be out to demonstrate that their products are able to help with the ultimate aim of eliminating recalls." RF System Lab, in booth 8044, will have the VJ-Advance (VJ-ADV) Video Borescope available for hands-on demos for expo attendees. Auto industry experts will be able to explore how the easy to use VJ-ADV can help them save time and money on their remote visual inspections.
In the four years that RF System lab has exhibited at the Auto Testing Expo numerous companies across the automotive industry have seen the VJ-Advance first hand at the show and are now using the tool regularly at their facilities. Senior Sales Consultant, Casey O'Tool, says he is "looking forward to seeing our valued customers from the automotive industry."
Those interested in learning about RF System Lab and the VJ-Advance, available in 2.8mm, 3.9mm, and 6.9mm diameters, can head to booth number 8044 from October 20-22. The exhibit hall opens at 9:00 each morning. Anyone who can't make it to the Automotive Testing Expo can take advantage of RF System Lab's no, cost, no obligation video borescope trial in their own facility. Call (855) 787-6966 to get more information.
RF System Lab is a worldwide leader in remote visual inspection and video borescope technology. RF manufactures the fully-articulating (360 degree) VJ-Advance (VJ-ADV) video borescope; available in 2.8mm, 3.9mm, or 6.9mm insertion tube diameters. The VJ-ADV delivers the ideal features sought after by industry professionals. RF System Lab offers an industry-first, no obligation demo program to allow companies to test drive the VJ-Advance by doing real-world inspections at their own facility at no cost.