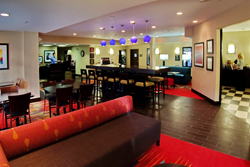 Boulder, Colo. (PRWEB) October 14, 2015
The Superior Roughriders take on the Colorado Junior Eagles at home on Boulder Valley Ice on Thursday, October 29th. Both teams are fierce competitors in the Western States Hockey League and with both being from Colorado; this game is going to be exciting. Fans won't want a chance to miss seeing their favorite team skate away a winner. The game starts at 7 pm and tickets are $8, available online and at the door. Hampton Inn by Hilton Boulder Louisville is a proud sponsor of the Superior Roughriders Hockey Club.
Less than a mile from Boulder Valley Ice, Hampton Inn by Hilton Boulder Louisville welcomes all Roughrider fans to stay the night after the victory. Hampton offers great amenities, comfortable rooms and group accommodations. Amenities include free Wi-Fi, complimentary hot breakfast buffet daily, indoor pool, fitness center and much more. Guests may choose from king, double queen, king study and accessible rooms, available upon request. Guests will enjoy the hotel's close location to Boulder Valley Ice, Pearl Street Mall, Flatirons Crossing Mall, University of Colorado at Boulder and much more.
For reservations and more information on the Hampton Inn by Hilton Boulder Louisville, please visit http://www.louisvillehampton.com or call (303) 666- 7700 and mention "Roughriders." The Hampton Inn by Hilton Boulder Louisville is proudly managed by Stonebridge Companies in Denver, Colo.
Founded in 1991 by Navin C. Dimond, Stonebridge Companies is a privately owned, innovative hotel owner, operator and developer headquartered near Denver. Its diverse listing of properties includes select-service, extended-stay, mid-scale and full-service hotels in markets throughout the U.S. For detailed information, visit http://www.sbcos.com.