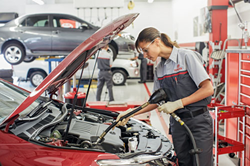 Any unaddressed problems will lead to even more extensive and costly repairs down the road.
Torrance, Calif. (PRWEB) October 14, 2015
Summer has ended and your vehicle needs more than just an oil change to run smoothly in the cooler months ahead. October is Fall Car Care Month and Toyota is teaming with automotive industry expert Jeff Fortson to provide tips for effective car maintenance as the season shifts.
Are your tires and windshield wipers equipped to handle lower temperatures? Is your heating/cooling system running properly? Is your mechanic ASE Certified? These are just some of the questions that motorists should consider as the season changes.
Fortson, editor of JeffCars.com, an educational car-buying guide for women and minorities, says consumers must prepare for the weather's impact on their car's drivability.
"Cars can perform trouble-free for long periods of time but as the temperature changes, it's important to fine-tune your maintenance routine to get the best performance and avoid costly repairs," said Fortson.
He advises following five car tips to prepare for the fall:
1. Listen. Pay attention to every sputter, clang from the engine, squealing tires and grinding brakes; your car might indicate it's time for a check-up. At that point, get your vehicle inspected promptly.
2. Check. As temperatures begin to fluctuate, it's essential to have your heating/cooling system checked in order to avoid any discomfort while you are driving. Improper maintenance for your heating/cooling system is one of the primary causes of vehicles overheating and breaking down.
3. Change. Replace the essentials -- your oil and filters -- at the recommended schedule. Also make sure to inspect your air, fuel and transmission filters.
4. Power up! Make sure your battery is fully functional. Have the battery checked and replaced as needed. Stock jumper cables in case you ever get stranded by a dead battery.
5. See the experts. Go to your local dealership. They are required to provide official automotive training for their technicians. This means experts will handle your vehicle. If your repairs fall under the manufacturer's warranty, you may be able to receive a discount.
Fortson cautions, "any unaddressed problems will lead to even more extensive and costly repairs down the road."
# # #
About JeffCars.com
JeffCars.com is owned and operated by Jeff Fortson, an Atlanta-based auto analyst. The site is the only educational car-buying clinic for women and minorities, and is housed within the Library of Congress. He is also the host of "Auto Trends with JeffCars.com" on Phoenix's 1280-AM KXEG and has been a contributing writer for Essence, Black Enterprise, Jet, AOL's BlackVoices.com and Ebony.com. Fortson has more than 25 plus years of automotive retail and automotive corporate experience, including approximately eight years with the Chrysler Corporation, working with dealers in Iowa, Michigan, Wisconsin and Texas.
About Toyota
Toyota the world's top automaker and creator of the Prius and the Mirai fuel cell vehicle, is committed to building vehicles for the way people live through our Toyota, Lexus and Scion brands. Over the past 50 years, we've built more than 30 million cars and trucks in North America, where we operate 14 manufacturing plants (10 in the U.S.) and directly employ more than 42,000 people (more than 33,000 in the U.S.). Our 1,800 North American dealerships (1,500 in the U.S.) sold more than 2.67 million cars and trucks (more than 2.35 million in the U.S.) in 2014 – and about 80 percent of all Toyota vehicles sold over the past 20 years are still on the road today.
Toyota partners with philanthropic organizations across the country, with a focus on education, safety and the environment. As part of this commitment, we share the company's extensive know-how garnered from building great cars and trucks to help community organizations and other nonprofits expand their ability to do good. For more information about Toyota, visit http://www.toyotanewsroom.com.