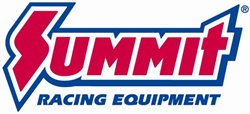 Tallmadge, OH (PRWEB) October 20, 2015
Now is the time to get a daily driver or work truck ready for the upcoming cold and slush by giving it a good going-over and replace what needs replacing. Summit Racing added over 7,600 new OEM replacement parts to its already-huge inventory, many of them ideal for winterization.
Four Seasons Heater Valves
The heater valve controls the coolant flow from the radiator to the heater core. A busted heater valve means no heat or defrost functions, and possible coolant loss if the valve is leaking. Prevent such calamities with a new Four Seasons Heater Valve. Summit Racing has them for vehicles from 1958 through 2011.
Monroe Quick Struts
Monroe's Quick Struts make strut replacement much easier. That's because the Quick Struts come as fully assembled unit—just remove the old assembly and replace it with the Quick Strut. Most kits feature a pre-assembled replacement bearing plate, upper and lower spring isolators, an upper spring seat, a coil spring, a boot kit, and a premium Monroe Sensa-Trac strut. All Monroe Quick struts feature application-specific valving to optimize the vehicle's ride and handling.
Monroe Quick Struts are available for 1975 to 2015 domestic and import passenger cars, min-vans, and crossovers using a McPherson style suspension system.
Walker Quiet-Flow 3 Mufflers
If a vehicle didn't come from the factory with a stainless steel exhaust, chances are the muffler(s) have been replaced at least once. That's because the OEMs used non-aluminized steel to build their exhaust components. Walker's Quiet-Flow 3 mufflers are made from durable aluminized steel, so they will last a lot longer than a typical OE muffler.
The turbo-style mufflers provide great interior and exterior sound control without decreasing exhaust flow. Internal partition baffles and spun-locked heads help improve structural support, and the mufflers have OE-style rods and brackets for precise fit. Quiet-Flow 3 Mufflers are available for 100s of vehicles from 1955 through 2011.
Standard Motor Products Defogger Switches
Click. Click-click-click. That's the sound a deceased defogger switch makes. Replace it with a brand new Standard Motor Products Defogger Switch. Standard Motor uses copper alloy for superior conductivity, and all switches are tested to meet or exceed OE specs. The switches are a simple remove-and-replace deal, and will save much hassle and bad language on those frosty winter days. They are available for many 1984-2005 domestic and import vehicles.
See the other new OEM replacement parts available at Summit Racing in the New Products Section at SummitRacing.com.
Summit Racing Equipment
SummitRacing.com
1-800-230-3030