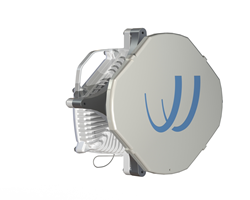 The system offers the right features at the right price, for diverse applications unmatched by other 80GHz systems on the market today.
San Diego, California (PRWEB) October 18, 2015
BridgeWave Communications, a market leader in wireless backhaul systems, announced today that it is fulfilling orders for the Flex4G-3000 radio, the industry's first 80GHz millimeter wave radio system delivering up to 3.2Gbps full duplex throughput per radio. Given the exponential growth of bandwidth-intensive Internet traffic, the Flex4G-3000 offers 3G/4G operators a true alternative to fiber in dense urban areas, and provides public and private network operators with an ultra-high capacity backhaul system that quickly and easily scales from 1Gbps to 6.4Gbps (2+0 configuration) to meet future bandwidth requirements.
The Flex4G-3000 is a zero-footprint, all-outdoor radio system offering the highest availability with delivery of up to 3.2Gbps full duplex per 1+0 radio, or 6.4Gbps full duplex per 2+0 radio. BridgeWave's highly integrated RF and spectrally efficient signal processing techniques provide for the longest link distances, while maintaining multi-gigabit speeds and offering carrier grade features. Further enabling future-proof transport, Flex4G-3000 allows operators to flexibly provision links across multiple network topologies including mixing Ethernet, CPRI, and SONET/SDH traffic. Key features include:

3.2 Gbps data rate per 1+0 radio and up to 6.4 Gbps per 2+0 radio
Scalable from 1Gbps to 6.4Gbps for pay-as-you-grow flexibility
Adaptive Code Modulation from BPSK through 256QAM
250 MHz or 500 MHz RF channel bandwidths
Highest bit/Hz spectral efficiency at the longest link distances
Outstanding RF performance benefiting from highly integrated architecture
Flexible configurations including 1+0, 1+1 and 2+0
RF channel tuning across the entire 70/80 GHz band in 250 MHz steps
Automatic Transmit Power Control
Environmentally friendly, compact and light weight zero-footprint ODU with low power consumption and Power-over-Ethernet
Integrated low-latency switch supporting jumbo frames and advanced Ethernet functionality including Quality of Service (QoS), VLAN support, Provider Bridge (Q-in-Q), Radio Link Aggregation (RLA), Ring Protection (RSTP, MSTP) and Ethernet OAM management.
Optional FIPS-197 Certified 256-bit AES encryption
The new Flex4G-3000 radio systems have been designed for use in a wide range of applications:

Fiber extension/replacement – the last mile gap between the fiber backbone and commercial buildings not accessible by fiber, whether a fiber ring or a hop across the street. Much less costly than laying new fiber.
3G/4G backhaul – multi-gigabit links that allow operators to "future proof" their 4G/LTE backhaul networks and allow seamless transition to 5G.
Lease line replacement – eliminate recurring monthly leased line costs.
Redundancy – fiber-quality wireless backup to fiber for mission-critical data.
Disaster recovery – networks that need to be deployed quickly without fiber dependency, eliminating wait time for approvals, permits, etc.
Shared networks – ultra-high capacity hops shared among two or more network operators
"BridgeWave has delivered tens of thousands of millimeter wave radios globally and has set a new standard in capacity, performance, flexibility, and value with the Flex4G-3000," said Hesham El-Adly, product marketing manager, BridgeWave Communications. "The system offers the right features at the right price, for diverse applications unmatched by other 80GHz systems on the market today. It leverages our expertise in millimeter wave solutions, and mobile operators, service providers, and enterprises will benefit from its capabilities not only today, but well into the future. We are already seeing demand worldwide, with first shipments fulfilling orders from the US, Europe, and Asia."
BridgeWave Communications offers a broad portfolio of backhaul solutions including licensed 6 - 38GHz microwave systems (Etherflex and FlexPort µWave); license-free 60GHz millimeter wave systems (AR60 and BW64); and lightly-licensed 80GHz millimeter wave systems (Flex4G-UHA, FlexPort80, BW-Eagle, and the new Flex4G-3000). These systems have been designed specifically to meet the backhaul needs of carriers, enterprises, and ISP customer networks worldwide.
BridgeWave will be exhibiting at GITEX in Dubai, UAE from 18-22 October, 2015 in stands Z-H30 and Z-F15. To arrange a meeting with BridgeWave executives at the event, please contact BridgeWave at marketing(at)bridgewave(dot)com
About BridgeWave
BridgeWave Communications provides high-capacity microwave and millimeter wave backhaul and wireless connectivity solutions for operators, carriers, service providers, governments, and private enterprise networks. With over 30,000 systems deployed in over 60 countries, the company's innovative solutions have been entrusted by customers all over the world to enable highly reliable and secure, high-capacity and gigabit connectivity while reducing operating costs relative to fiber and other land-based alternatives. Founded in 1999, BridgeWave is headquartered in San Diego, California. For more information, visit http://www.bridgewave.com.