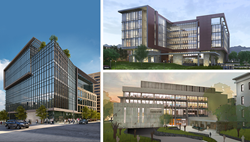 These exceptional buildings are opening during a time of profound change for law schools.
Washington, DC (PRWEB) October 15, 2015
Three new law school buildings, designed by SmithGroupJJR, are opening their doors to students during the 2015-2016 school year. In total, it amounts to nearly a quarter of a million square feet of new space for three of the nation's leading law schools.
University of Utah's S.J. Quinney College of Law, Georgia State University's College of Law, and American University's Washington College of Law each offer distinctive legal education programs. Each school's new building will allow its students and faculty to connect place and purpose.
"These exceptional buildings are opening during a time of profound change for law schools," says Tom Butcavage, leader of SmithGroupJJR's Learning Studio in Washington, DC. "Their specialized and unique facilities will shape learning, community, connections and experience."
University of Utah S.J. Quinney College of Law
S.J. Quinney College of Law, in Salt Lake City, Utah, opened to students for the new school year at a grand opening ceremony on September 1, 2015. The new $62.5 million, 155,000-square-foot building serves as a gateway to the campus as well as a dynamic, experiential learning environment. The school features an integrated law library and an unusual amount of collaboration and flexible-use space to support active outcome-based collaborative research. The new facility is designed to achieve LEED Platinum certification—the first law school in the West and the second in the nation to earn such a designation.
Georgia State University College of Law
The College of Law at 85 Park Place held a ribbon-cutting ceremony to welcome students and faculty to the building on September 9, 2015. The first LEED building for Georgia State University, the new 205,750-square-foot facility is intended to serve as a beacon within the city to connect the school to its greater Atlanta community. The new, $82.5 million building is designed to foster interaction and collaboration among students, faculty, alumni and staff, with the law library serving as the social heart. With 23 classrooms and a 230-seat appellate and trial courtroom for training and special events, the new building is targeting LEED Silver certification.
American University Washington College of Law
American University Washington College of Law will begin classes at the 312,000-square-foot complex on the historic Tenley Campus in upper northwest Washington, D.C. on January 11, 2016, with a ribbon-cutting ceremony following on February 12, 2016. The College of Law's new $128.5 million home will define a prominent identity while honoring the legacy of site, designated as a National Register historic district. New and renovated facilities will create an academic campus of spaces to engage students, faculty, alumni, staff and members of the D.C., national, and global legal communities. The new campus is targeting LEED Gold certification.
More about SmithGroupJJR
SmithGroupJJR's higher education portfolio encompasses expertise in the programming and design of specialized project types ranging from law schools, health sciences schools and laboratories, to a variety of fusion facilities. The firm has been nationally recognized by learning organizations including the Association of College Unions International (ACUI), the Society for College and University Planning (SCUP) and the Association for the Advancement of Sustainability in Higher Education (AASHE). Recent noteworthy projects include University of Pennsylvania's Neural Behavioral Sciences Building, Emory University Hospital and renovations at Georgetown University's School of Medicine.
SmithGroupJJR (http://www.smithgroupjjr.com) is a recognized integrated design firm with 1,000 employees in 10 offices. With 128 LEED certified projects, SmithGroupJJR is a leader in sustainable design.