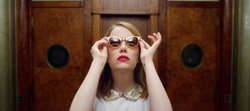 Ryan Heffington recently worked on the Paul McCartney re-release of "Say, Say, Say" and lends his creative vision to the "Anna" music video by Arcade Fire's Will Butler
Los Angeles, CA (PRWEB) October 14, 2015
What happens when highly creative dreamers get together with a great song and phenomenal choreography at a legendary location (Queen Mary in Long Beach, California)? You get the music video "Anna," Will Butler's (of Arcade Fire fame) groovy debut single. "Anna" is the vision of director Brantley Gutierrez and is produced by Santa Monica's Subtractive Inc.
Click here to view the Will Butler "Anna" Music Video
"Anna" - Debut Single from Will Butler Featuring Emma Stone and Choreographed by Ryan Heffington
Set on California's iconic Queen Mary in Long Beach and loosely based on the popular story about the ghostly "Lady in White," this breakout single and video highlights Emma Stone's dancing prowess as choreographed by Ryan Heffington. Ryan's work includes the acclaimed Sia video "Chandelier," which to-date has received nearly one billion views on YouTube.
Ryan Heffington has carved a niche for himself as one of the most creative choreographers in the business having worked with some of the biggest names in the world on music videos and more. Ryan's story is so compelling that Visit California invited Ryan, a native of Yuba City, California, to be the subject of a new video in its original series titled "California Dreamers." An inspiration to artists and art/performance fans alike, Ryan provides an all-access look into his creative world, exclusively on the Dream365TV network dedicated to California and the promise of dreaming big.
Featuring interviews from Emma Stone, Ryan's "Dream of Dance" episode explores his California roots and the collaborative process that resulted in a truly eye-popping spectacle aboard the Queen Mary.
Click here to view the California Dreamers Ryan Heffington "Dream of Dance" video by Visit California.
Ryan Heffington - Dream of Dance, A Dream365TV Exclusive
To download the single "Anna" by Will Butler from his debut album "Policy" click here:
###
For Press Inquiries:
Michael Frick
frick(at)subtractive(dot)net
310-346-8198
For Visit California Press Inquiries:
Daniel Guerrero
daniel(dot)guerrero(at)aboutdci(dot)com
310-270-8115