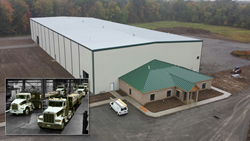 With our own fleet drivers, we exercise greater control and increase our delivery capabilities in the region."
Quakertown, PA (PRWEB) October 14, 2015
Penn Stainless Products, a full line stainless steel distributor and processor, has completed construction of its new 35,000-square foot transfer and distribution facility in Jackson Center, Mercer County, PA. With dedicated flatbed delivery starting Oct. 19 along routes throughout Western PA and Eastern OH, PSP can now deliver stainless product to customers in a few days or less.
"We are pleased to announce the completion of the Jackson Center Facility. We are in a much better position to service and support our customers as a result of this commitment, said Jim Seward, president of Penn Stainless Products. "With our own fleet drivers, we exercise greater control and increase or delivery capabilities in the region."
The new facility in Jackson Center is centrally located among the Pittsburgh, Erie, Akron and Cleveland areas, within just a few miles of the I-79 / I-80 interchange. Product is now available to customers next day for stock orders as product will be shipped from Quakertown and then distributed by Penn Stainless Trucks from the new transfer facility.
Major area metropolitan areas will be served according to the following schedules: Akron, OH: Monday / Wednesday / Friday delivery; Youngstown, OH: Tuesday / Thursday delivery; and Erie-Meadville: Tuesday / Thursday delivery.
For more information, contact Penn Stainless Products, Inc., 190 Kelly Road, Quakertown, PA 18951 USA; Phone: 1-800-222-6144 / 215-536-3053; Fax: 215-536-3255 E-mail: sales(at)pennstainless(dot)com; Web: http://www.pennstainless.com
About Penn Stainless Products
Founded in 1979, Penn Stainless is a full line distributor and processor of stainless steel sheet, plate, bar, structural, pipe and tubular products. Now one of the Top 50 Metal Service Centers in North America, Penn serves domestic and international customers in stainless, high-temperature, corrosion, Duplex and PH alloys. Besides leveling, Penn Stainless offers extensive cutting services, including: coil processing, plate shearing, sheet shearing, plasma, HQ plasma, plate laser cutting and dynamic waterjet, as well as machine, saw and Amada production cutting.
# # #