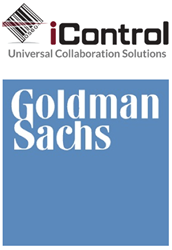 This growth financing is a seminal event for iControl as we have definitively crossed the threshold from promising upstart to one of the most innovative and respected software companies serving the retail supply chain
Burtonsville, MD (PRWEB) October 15, 2015
iControl Universal Collaboration Solutions announced today that it has closed a $20 million growth capital facility with Goldman Sachs Specialty Lending Group ("GSSLG"). The company will use the proceeds to bolster its balance sheet and finance its growth, which recently landed the company on Entrepreneur magazine's Entrepreneur 360™ list of Best Entrepreneurial Companies in America.
iControl is a leading provider of process improvement, payment settlement, and collaborative business intelligence solutions for the food, drug and convenience value chain. iControl's software and support makes it easier for partners to improve performance and reduce costs through electronic collaboration. We process and remit funds for millions of invoices annually, while providing real-time visibility to store and item level inventory and sales data, with particular emphasis on Direct Store Delivery. Our network includes over 30,000 retail outlets and over 3,000 distributors and manufacturers in all 50 states. Major retail clients include Kroger, Safeway, Supervalu, CVS, Ahold USA, Rite Aid, TGI Friday's, Walgreens, Wakefern, and Starbucks. Major manufacturer clients include Coca-Cola, Miller Coors, ConAgra, Pepsico, General Mills, Kimberly Clark, and Unilever. Major wholesale distributor clients include Bimbo, Nestle Ice Cream, Southern Wine & Spirits, Flowers Foods, Republic National, Gannett, Hudson News, Tribune Company, Dean Foods, Ben E Keith, NDA, TNG and Silver Eagle. Major strategic partners include software companies PDI and VIP.
"This growth financing is a seminal event for iControl as we have definitively crossed the threshold from promising upstart to one of the most innovative and respected software companies serving the retail supply chain, and particularly for direct store delivered merchandise," said Roger Davidson, a company board member and well respected industry authority who is also COO of Magi Foods. "This industry has needed someone like iControl for a long, long time. It's exciting to see what comes next; I know it will be very big."
Goldman Sachs Specialty Lending Group ("GSSLG"), founded in 2004, operates as the middle market financing and investing platform within The Goldman Sachs Group, Inc.
"We are pleased to welcome Goldman Sachs Specialty Lending as our new capital provider," said Tal J. (TJ) Zlotnitsky, Chairman and Co-CEO of iControl. "We have the best team and the best products in the industry, so it felt natural to partner with Goldman Sachs when it came to capital and support. Their knowledge and experience will enable us to continue building our business, continue to invest in our people and our products, and broaden our appeal through smart acquisitions."
iControl Universal Collaboration Solutions is headquartered in Burtonsville, MD.
About iControl Universal Collaboration Solutions
iControl is a leading provider of process improvement, transaction settlement, and collaborative business intelligence solutions for the food, drug and convenience value chain. We make it easier for our partners to improve performance and reduce costs through electronic collaboration. We process and remit funds for millions of invoices annually, while providing real-time visibility to store and item level inventory and sales data. Our network includes over 30,000 retail outlets and over 3,000 distributors and manufacturers in all 50 states. For more information please visit http://www.icucsolutions.com
Press Contact
Mike Flebotte, EVP/Marketing & Strategy, mike.flebotte(at)icucsolutions.com