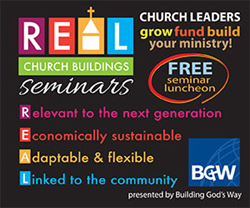 Springfield, IL (PRWEB) October 16, 2015
Building God's Way (BGW), a national leader in church design and construction that offers a broad network of other services to ministry-based organizations, will be hosting 2 seminars in the coming week for church leaders in the Midwest region. The "REAL Church Buildings Seminar" will make stops in Springfield, IL on October 21 and Columbus, Ohio on October 22.
Church leaders throughout the Midwest will be attending the seminars to learn about a paradigm shift in the way church buildings are designed, constructed, funded and used.
Seminar speakers will include representatives from leading church architects, church builders, leadership coaches, entrepreneurs and fundraising experts. These experts will share strategies for developing REAL church buildings that can be utilized 7 days a week to reach the community and have a REAL Kingdom impact.
The featured speakers for the event will be award-winning church architect Don Mahoney and pastor and author Terry Bates. Don Mahoney has one of the most extensive backgrounds in church, school and performing arts architecture in the U.S., designing prominent facilities all across the country throughout a 30 year career. As a partner architect for Building God's Way, Don has become a leader in the field of faith-based architecture and has been recognized with a number of national design awards, including multiple WFX Solomon Awards for Best Church Architect, Best Church Design, Best Special Project and Best Digital Church. Don is also a recipient of the LCEF Arts & Architecture Award for Best Liturgical Design.
Terry Bates is the Senior Pastor of OKC Faith Church in Oklahoma City. During more than 30 years of ministry, Terry has coached and trained hundreds of churches around the world on the principles from his book entitled "Positioning your Church." He has also personally pastored three churches to incredible turnaround growth and has served as a trainer for Dr. John Maxwell's Million Leader Mandate, in which he was actively involved in training over 250,000 church leaders. Terry is also an expert capital campaign consultant and has worked with churches nationwide to successfully raise funds utilizing the comprehensive Momentum program.
Attendees will learn about "R-E-A-L" church buildings that are (1) Relevant to the Next Generation - how innovative church design and technology can help change the method without changing the message; (2) Economically Sustainable - stewardship-driven approaches to expansion, remodel, adaptive re-use and financially sustainable models that integrate for-profit enterprise; (3) Adaptable & Flexible - strategies for planning, designing and building church facilities with future flexibility in mind; (4) Linked to the Community - how to uncover the specific needs of the community and develop a facility that can meet those needs 7 days a week.
Other seminar topics include: (1) Positioning Your Church - Terry Bates will share effective leadership strategies for creating and sustaining the internal momentum necessary to propel a ministry to new heights; (2) Forward in Faith - The seminar will reveal a comprehensive funding solution that goes way beyond just a capital campaign, with proven methods to help ministries get from initial concept to completion.
The seminars will be co-sponsored by Building God's Way, S&B Construction Group and Weaver Commercial Contractor. For more information or to register, visit the BGW Seminar web page.