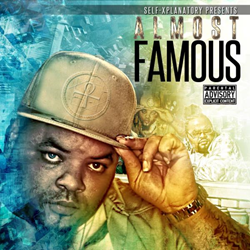 Atlanta, GA (PRWEB) October 14, 2015
Today Coast 2 Coast Mixtapes announce the release of "Almost Famous", the latest mixtape by Atlanta's SelfXplanatory. The mixtape is currently available for streaming and download at the official Coast 2 Coast Mixtapes website.
This album consists of music from SelfXplanatory's features on other artists albums thus far. Rhyming over tracks from the dirty south, the east coast, west coast and around the world, SelfXplanatory showcases his diversity of skill. This album is the first official mixtape album release from SelfXplanatory.
The mixtape features 35 tracks, including those below:
1 Almost Famous
2 Come Take a Look
3 Heroes and Villains
4 Sing My Song
5 Heavy Hitters
6 Grind
7 Mackrobat
8 Talkin' Shit
9 Living Famous
10 Road 2 Riches
11 Work Hard
12 Hustle On
13 Countin' Dough
14 Ride 2 This
15 Head Hunters
16 Keep You Movin'
17 Conflict by Pappa Bowie
18 I'm SelfXplanatory
19 Seen It All
20 Bangin' My Music
21 Hip Hop Meditation
22 Mirror Mirror on the Wall
23 I'm the Villain
24 Billy Jean Pimpin'
25 Take You Home
26 OG Paradise
27 Sunset Riders
28 Raw Styles
29 Dick Game
30 What You Gone Do
31 Bringin' Down the House
32 Limb Snap by Defkon feat. SelfXplanatory
33 The Awakening
34 Not Willing by Vic Creed feat. SelfXplanatory
35 So Long
SelfXplanatory is currently seeking press opportunities, interviews, features, and more. He can be reached through his official website.
About SelfXplanatory: Tupac Shakur once said, "I don't see myself being special, I just see myself having more responsibilities than the next man. People look to me to do things for them, to have answers."
For music artist and songwriter SelfXplanatory, there is never a better comparison when it comes to his music. His style and personality thrives throughout the lyrics as expressively as the instruments behind them. Unique and distinguished. Humorous, intelligent and visually appealing, SelfXplanatory's creativity compels listeners of all musical genres to become a fan of his unique sound. For more info on SelfXplanatory visit his official Facebook page.
About Coast 2 Coast Mixtapes:
Coast 2 Coast Mixtapes are the most widely distributed mixtapes in the world, with over 100 million downloads/plays generated by over 300 volumes officially hosted by major artists. Coast 2 Coast has a solid reach in the new music industry with a digital magazine, DJ coalition, industry tips blog, yearly convention, and more. Coast 2 Coast Mixtapes represents a unique opportunity for artists of all urban genres, from major to indie. For more information, visit http://www.coast2coastmixtapes.com.