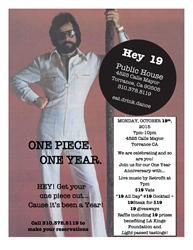 While Hey 19 Public House is relaxed, its success since opening can only be attributed to Ms. Stevens' convivial, "can do" spirit.
Torrance, California (PRWEB) October 15, 2015
Celebrating a stellar year in an area not often known for great dining and great drinks, Demi (Demetra) Stevens became the innovator of the South Bay, when she opened Ortega 120 eight years ago. She continues to creatively raise the bar with the hidden, yet very popular, South Bay gem Hey 19 Public House. Stevens is lauded for creating award-winning cocktails, warm and eclectic environments, and cultivating great kitchen talent. It was no surprise when the opening of Hey 19 Public House last fall was met with such community enthusiasm. The expansive dining menu was designed to complement her ever sought after specialty drinks. Comprised of small plates, salads, charcuterie, pastas, seafood, and several house specialties, including Foie Gras Fridays and Fried Chicken & Waffles, this menu has proven to offer something for everyone that walks through the doors of Hey 19 Public House.
That in fact, is Demi Stevens' other trademark - creating dining and drinking experiences that are inclusive and welcoming for all. An accomplished restaurateur, Hey 19 Public House is Demi's latest and very different offering to the area. This "public house" has her fingerprints all over it, literally and figuratively.... from the details of the locally sourced, organic-non gmo menu presented in a Pee-Chee folder, to the filled walls of Banksy prints and Star Wars memorabilia. The well placed details come together to create an atmosphere of elevated kitsch, where one can sit back, watch an array of throwback movies projected on the walls, and reminisce over the soundtrack of our lives, all while indulging in a spearmint tea crusted rack of lamb with a fig remedy and signature #19 Infused Bourbon Cocktail.
While Hey 19 Public House is relaxed, its success since opening can only be attributed to Ms. Stevens' convivial, "can do" spirit. An astute businesswoman, she earned her chops through years of working in restaurants, hustling in every position from dish to door and under some of the most renowned Chefs and Restaurateurs in LA. Her most influential experience was with Susan Feniger and Mary Sue Millikan. According to Stevens, "They taught me the importance of humility with creativity and to never flinch".
She has also proven adept at building skilled teams to execute her vision. In this case, collaborating with Chef Vasili Tavernakis, to build a menu that is loved by locals and entices commuters from the LA area. True to form, Stevens finds people that believe in pushing the envelope as much as she does. The staple menu is far reaching and the anniversary date introduces the new seasonal menus simply because "we get bored, we have to try new twists on ingredients or perish" Stevens states, tongue in cheek.
Stevens' restaurant philosophy is that dining out is an experience, each element being as important as the next. Diners will be glad to know that each dish has an artfully- crafted drink or wine pairing available. Demi's mixology skills are what initially brought her LA fame. The cocktail list at Ortega 120 as well as its 250 tequila variety is what put her on the map, not only as a skilled cocktail crafter in Los Angeles, but has helped to open doors for many younger women breaking the "boy barrier". The opportunity to create outside of the Tequila world left no one unhappy. Her #19 is the Hey 19 Public House go-to cocktail, comprised of house-infused orange bourbon, fresh lemon, lime, & orange, and agave, so popular that they are now serving it in Vats for groups to share.
Hey 19 Public House has been presenting "Spirit" Universities as a follow up to Stevens' "Best Things To Do In LA- Tequila University", in addition to sold out pairing dinners featuring different Spirits paired with 5 course tastings created by both Tavernakis and even guest Chefs. The next dinner in November features Bruichladdich Scotch. The sell out groups for her Tequila University at Ortega 120 have prompted Stevens to create a monthly Bourbon University as the starter course for her Spirit University at Hey 19 Public House.
The menu at Hey 19 Public House was built with the ethos that quality ingredients will yield exceptional meals and memorable experiences. Ms. Stevens and Chef Tavernakis support the "local" theme in every sense, as trips to the Torrance farmer's markets take place weekly, ensuring that local produce is an integral part of the menu. Meats are non-gmo and hormone free. With its carefully curated interiors and thoughtfully executed meals and drinks, Hey 19 Public House has both style and substance, treating high quality ingredients like they should be the norm.
Hey 19 will be celebrating its one-year anniversary on the 19th of October at Hey 19 Public House, with live music (local favorite Retrofit), delicious tastings and giveaways. Call ahead to make a reservation and RSVP. Live music by Retrofit begins at 7pm.
Hey 19 Public House is located at 4525 Calle Mayor in Torrance, CA. Hours are Sunday 11am-9pm, Monday 11am-10pm, Tuesday 11am-11pm, and Wednesday-Saturday 11am-1:30am.