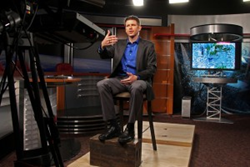 The project developed over time as needs and requirements evolved, and Microspace's flexibility adapted as their needs changed.
Raleigh NC (PRWEB) November 03, 2015
A pioneer in communications solutions for enterprise applications and content delivery, Microspace Communications recently teamed up with legendary restaurant operator Golden Corral to solve their business continuity challenges and improve company-wide corporate communications.
Golden Corral presented two key issues to Microspace:
1. Migrate from their existing legacy continuity solution to alleviate network redundancies during point of sale (POS) downtime.
2. Utilize enterprise level video production services to deliver company-wide video communications from the CEO to the 500+ franchise- and company-owned locations.
Leveraging over 25 years of experience helping enterprise customers meet their communications needs, Microspace helped solve Golden Corral's top two business challenges by utilizing its VELOCITY Continuity and enterprise video production solutions.
VELOCITY CONTINUITY SOLUTION FOR BUSINESS CONTINUITY
Golden Corral needed to eliminate the pains associated with processing payments during POS downtime. Microspace's VELOCITY Continuity solution proved to be the right answer to update from their existing network redundancy measures.
By replacing their out dated legacy backup system and phone lines with the new wireless technology of VELOCITY Continuity, Golden Corral experiences improved network and POS continuity across their store locations. As a result, stores see fewer credit card transaction issues and their associated costs. In addition, stores save money each month by transitioning away from expensive phone lines to the newer technology.
Unlike traditional wireless continuity solutions, VELOCITY Continuity features a shared data pool. Pooled data can be shared across multiple Golden Corral locations. So if one location experiences communications issues, they can tap into the group's shared data pool and avoid the costly overage fees typically seen with other wireless offerings.
ENTERPRISE VIDEO PRODUCTION FOR CORPORATE COMMUNICATIONS
As Golden Corral transitioned to new leadership last year, their communications team sought out a customized solution for delivering a live recorded corporate address to their restaurants across the US. Using the latest studio and production technology, Microspace delivered Golden Corral's quarterly videos in full HD quality, helping to successfully launch the new era of leadership.
Golden Corral did not have the internal resources and expertise needed to capture, edit, and produce videos that accomplished their communications goals. Microspace provided the full suite of production services from recording, to editing, make up, and branded corporate backgrounds.
The project developed over time as needs and requirements evolved, and Microspace's flexibility adapted as their needs changed. "At the beginning, Golden Corral used our production studio." Curtis Tilly, Director of Enterprise Media at Microspace explained. "We later moved our production studio to their location to more easily produce the HD video for their company-wide quarterly addresses by the CEO."
This on-site studio enabled Golden Corral CEO Lance Trenary to record these business-critical announcements right from his office. The post-production videos were then made available to franchise owners and affiliates company-wide via an online portal.
MICROSPACE'S DYNAMIC SOLUTION PORTFOLIO – AGILITY IS KEY
Microspace's agility in quickly and efficiently solving the challenges posed by Golden Corral was the key to success for meeting their communications needs. While Golden Corral's requirements only spanned North America, VELOCITY Continuity and enterprise video production solutions are built to scale to any business size, location, or vertical.
Learn more about how Micropace Communications' VELOCITY Continuity and enterprise video production services can help meet your business needs.
ABOUT MICROSPACE COMMUNICATIONS
Capitol Broadcasting Company, Inc., parent company of Microspace, is a diversified communications company which owns and/or operates WRAL-TV, WRAL Digital, WRAZ-TV, WRAZ Digital, WRAL-FM, WRAL-HD2, WCMC-FM, WCMC-HD1, WDNC-AM, WCMC-HD2, WCMC-HD3, WCLY-AM, WCMC-HD4, CBC New Media Group and Wolfpack Sports Properties (a joint venture with Learfield Sports) in Raleigh, NC; WILM-TV, WILT-LD and Sunrise Broadcasting in Wilmington, NC; The Durham Bulls Baseball Club in Durham, NC; and real estate interests including the American Tobacco Project and Diamond View office buildings in Durham, NC.