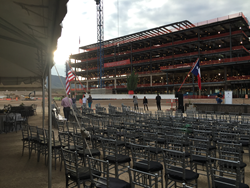 We are proud to take this important step in our quest to provide world-class healthcare to the communities we serve.
EL PASO, Texas (PRWEB) October 14, 2015
Robins & Morton celebrated the topping out of The Hospitals of Providence Transmountain Campus, a new multi-million dollar teaching hospital and medical office building (MOB) in far West El Paso on October 12 at 10 a.m.
The celebration included a beam signing and catered breakfast with special appearances by the Canutillo High School band and local Boy Scouts.
The final beam was adorned with both the Texas and American flag next to an evergreen tree symbolizing best wishes for the future occupants, continued growth, a safe job and the important achievement in the building's construction. It is estimated that more than 400 guests attended the event, including hospital staff, Texas Tech University employees, and city officials.
The facility is slated to open fall 2016 and will feature inpatient and outpatient surgery clinical departments, a level four trauma center, physical therapy services, an imaging department, recovery rooms, an endoscopy suite and central sterile supply. Once completed, the 140-bed teaching hospital will become the fourth acute care hospital under The Hospitals of Providence umbrella. The new hospital will provide an educational site for medical students, nursing students, resident physicians and faculty from Texas Tech University Health Sciences Center (TTUHSC) El Paso and will eventually offer training for approximately 75 medical residents across a multi-year program.
"The Hospitals of Providence is committed to making the city of El Paso the preferred destination for health care services in the region, and we are excited about our collaboration with Texas Tech University Health Science Center El Paso to help us achieve this goal," said Sally Hurt-Deitch, Market CEO for The Hospitals of Providence. "Together, we will offer an outstanding quality and exceptional service to Northwest El Paso, Southern New Mexico, and Juarez. The collaboration will facilitate the sharing of best practices among clinical leaders to further drive improvements in care. We are proud to take this important step in our quest to provide world-class healthcare to the communities we serve."
# # #
About Robins & Morton
Founded in 1946, Robins & Morton is a privately held engineering and construction firm that consistently ranks among the 100 largest U.S. contractors in Engineering News-Record Magazine. The company has also been named one of the best mid-sized companies to work for in America because of its worker-friendly and family-friendly practices. Robins & Morton is based in Birmingham, Alabama, with offices in Dallas, Texas; Huntsville, Alabama; Orlando and Miami Florida; Nashville, Tennessee; Charlotte and Raleigh-Durham, North Carolina. For more information, visit http://www.robinsmorton.com.
About The Hospitals of Providence:
The Hospitals of Providence covers the El Paso Region to include West Texas and Southern New Mexico. The system includes Memorial Campus, Providence Children's, Sierra Campus, East Campus, Transmountain Campus; Imaging Centers; Trawood and Northeast Emergency Rooms; Paso del Norte and El Paso Day Surgery Centers; Teen Health Resource Centers; Wound Care and Hyperbaric Centers; In-patient Rehabilitation Program; Outpatient Therapy Centers; MedPost and MedPost Kids Urgent Care Centers; and 'A New Me' Surgical Weight-Loss Program. The Hospitals of Providence is dedicated to continuing the over-60-year commitment legacy to the El Paso Community. For more information please visit TheHospitalsOfProvidence.com.
About Texas Tech University Health Sciences Center El Paso:
Texas Tech University Health Sciences Center El Paso, the Texas Tech University System's fourth university, has a mission to provide education, research, and patient care to West Texas. It is comprised of the Paul L. Foster School of Medicine, Gayle Greve Hunt School of Nursing and is a regional campus for the Graduate School of Biomedical Sciences. The university has a clinical practice called Texas Tech Physicians of El Paso, which is part of the largest network of health care physicians in West Texas. Research focuses on cancer, diabetes & obesity, infectious diseases, and neurology.