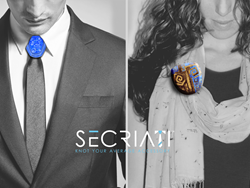 It's perfect for corporate branding or as a cool, modern and individual fashion accessory that's versatile and totally customizable.
Amsterdam, Netherlands (PRWEB) October 15, 2015
Secriati today launched its crowdfunding campaign on Kickstarter to introduce "Canvas", the tech inspired fashion accessory that gives men and women the freedom to express themselves with customizable, modern and elegant wearable tech designs.
With the campaign slogan "Knot your Average Accessory" Secriati's Canvas product line makes ties and scarves standout with wearable technology and modern designs that attach to men's and women's scarves, ties and shirts.
Whether displaying artwork, company logos, digital images, or streaming video, Canvas will give men and women everywhere the power to choose. Canvas allows users to showcase everything from their corporate brand, to their college, to their favorite sports team on this one-of-a-kind accessory.
"We set out to create a range of products that can be used as a platform for redefining personal expression while bridging the gap between fashion and function," said David Jones, Inventor & Co-founder of Secriati. "It's perfect for corporate branding or as a cool, modern and individual fashion accessory that's versatile and totally customizable."
Secriati has created an innovative accessory that captures creativity and enables fashion conscious men and women to rethink the possibilities of their wardrobe. Canvas brings together Style, Creativity, Connectivity, and Identity.
All Canvas designs utilize NFC (near field communications) technology so users with an NFC enabled smartphone are able to scan the product to read identity, or launch an application or website that's encoded within. As desired private data can be encoded into the device as well; this can enable use cases such as executing payment transactions with partners in the future.
Canvas offers a large design portfolio that can be combined with choice of colors, designs, or technology to provide customized fashion.
It allows users to place any personalized graphic, message, logo, or combination thereof on the product. The accessories can also be customized using precious metals and stones creating a one of a kind piece that expresses personal style.
"We see numerous branding opportunities for companies, sport teams, service groups and more with Canvas," added Jones.
Canvas by Secriati is launching on Kickstarter. For more information visit: https://www.kickstarter.com/projects/1858113250/secriati-knot-your-average-accessory
ABOUT CANVAS
MATERIAL: Canvas is molded from quality/lightweight plastics and decorated using an advanced vacuum printing techniques.
VERSATILITY: Through customization of the accessory, Canvas is able to render a durable high quality finish even around complex shapes.
COMFORT: The pieces are built with engineering precision to snap into place reliably and comfortably.
Strength and Durability: Canvas has a strong and durable finish that leaves you with a long lasting accessory.
SPECIAL FEATURES: NFC embedded technology.
About Secriati: Secriati is a company focused on bridging the gap between fashion and technology. Founded in 2011, Secriati has now introduced its Canvas product line that brings creative designs and innovation to the women's and men's accessory market. Based near Amsterdam, The Netherlands Secriati's expatriate co-founders have created compelling designs, bringing unparalleled flexibility to their customers, and introducing platforms which support new social experiences.