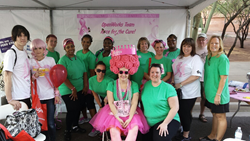 Phoenix, AZ (PRWEB) October 15, 2015
OpenWorks, one of America's leading integrated facility services franchises, once again supported Susan G. Komen by raising money and awareness for the fight against breast cancer.
This year OpenWorks collected a record of $4,830 for Susan G. Komen in its seventh straight year of supporting the foundation. The money was raised through several events in the Phoenix area on Sunday, October 11, as well as donations from OpenWorks franchisees around the country.
Sixteen members of the OpenWorks' corporate staff and their families took part in the annual Susan G. Komen Race for the Cure in downtown Phoenix. OpenWorks also supported the charity by holding a local bake sale at their corporate office building in September which totaled $1,137 in donations. Money collected from the race, bake sale and franchisee donations were matched by the OpenWorks' corporate office.
OpenWorks has provided customized cleaning solutions for a wide range of facilities and offices for more than 30 years. OpenWorks has used an environmentally "clean green" program to provide businesses with a clean, safe work environment. Earlier this year they added additional services such as landscaping, electrical and plumbing to help meet the extensive needs of each facility they serve.
OpenWorks Founder and CEO Eric Roudi said the company is proud to once again support Susan G. Komen during October's Breast Cancer Awareness Month.
"Many people, unfortunately, have been affected by cancer in their lives, and OpenWorks has several employees with family members who are survivors of breast cancer", said Roudi. "That is a big reason why we received so much support from our staff and franchisees to raise money and awareness to fight this horrible disease."
###
About OpenWorks:
Established in Phoenix, AZ in 1983, OpenWorks is a leading national commercial cleaning franchise that offers integrated facility services through highly reputable local affiliates. In 30+ years, the company has grown to 330 franchise locations in five states from Illinois to California.
OpenWorks is guided by a simple philosophy: a cleaner, safer and healthier environment means a more productive workplace. The OpenWorks franchisees and preferred partners who serve more than 1100 facilities each day offer more than simple cleaning and maintenance - they help their clients fundamentally improve their work environment. Each OpenWorks representative implements an environmentally friendly "Green Clean" program using the highest quality equipment.
The OpenWorks difference is all about open, flexible relationships. Each OpenWorks customer receives customized solutions that fit the needs of their specific facility.
For more information on OpenWorks, please visit http://www.openworksweb.com.