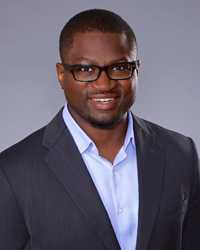 Adah Ojile named CIO of File & ServeXpress.
Irving, TX (PRWEB) October 15, 2015
File & ServeXpress, the pioneer and national leader of electronic filing and electronic service for the legal and judicial communities, has promoted Adah Ojile to Chief Information Officer. Ojile was previously a Vice President of Product Management and Strategy with the company, having joined in June 2014.
An IT professional and attorney, Ojile is focused on driving the company's IT delivery and product development efforts for an expanding network of innovative products and services to be offered to the legal industry.
"Adah is an exceptional strategic leader," said Mel Yarbrough, CEO of File & ServeXpress. "In a short time, he has made a number of high impact contributions. Adah has reorganized the Information Technology and Delivery team enabling them to be far more efficient and effective."
In his new role as Chief Information Officer, Ojile will continue to have executive leadership responsibilities for Product Management and Strategy as well as IT. He will remain focused on the company's collective goals for delivering innovative software products and services to the legal industry.
"I am very pleased with our team's accomplishments and response to change since joining File & ServeXpress," said Ojile. "We have undergone a reorganization to allow for a more rapid response to our law firm and court customer needs." He adds, "We will continue to deliver new solutions with an emphasis on innovation to meet the technology needs of the legal industry."
Ojile joined File & ServeXpress from Thomson Reuters where he was responsible for management of a senior product development team in the company's FindLaw business unit, the leading global provider of online news and digital marketing solutions for legal professionals. During his 16-year career, he has served in product management, digital marketing, IT, engineering and attorney roles for organizations ranging from AmLaw Top 5 law firm Cleary, Gottlieb, Steen & Hamilton to dynamic start-ups and global entities.
Ojile holds a law degree from Cornell University Law School and a Bachelor of Science in Aeronautical Engineering from the U.S. Air Force Academy.
About File & ServeXpress
File & ServeXpress, headquartered in Irving, Texas, was formed in 2012 through an acquisition of two of the pioneers of e-Filing and e-Service – CaseFileXpress and File & Serve, a former LexisNexis company. The resulting combination brought together more than 30 years of experience in legal e-Filing and e-Service to form the leader in the industry, offering products that provide access to universally compatible document exchange and management technologies. The company serves all types and sizes of courts, firms, cases and practice areas.