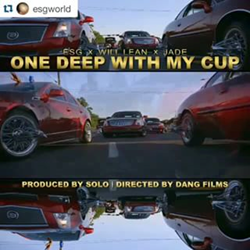 Houston, TX (PRWEB) October 14, 2015
Today Coast 2 Coast Mixtapes announce the release of "One Deep With My Cup". It is the first single from the upcoming mixtape "ASTROWORLD." S.U.C legends E.S.G. and Will Lean the Chemist team up with legendary producer Sean Solo Jemison and deliver another H-Town classic. "One Deep With My Cup" features brand new recording artist Jade. The video can currently be viewed in its entirety at the official Coast 2 Coast Mixtapes website.
E.S.G & Will Lean is currently seeking press opportunities, interviews, features, and more.
About E.S.G.: Dirty South pioneer E.S.G. trailblazed through the late-'90s movement and helped popularize the "chopped and screwed" style associated with his onetime home, Wreckshop Records. The "Everyday Street Gangsta" (born Cedric Hill) made his first major move in 1995 when Perrion Entertainment released Ocean of Funk (1995), which featured his breakthrough single, "Swangin' and Bangin'," and its accompanying "chopped and screwed" mix. Though commonplace a few years later, the chopped and screwed style of remixing hadn't yet become trendy. Thus the mix became just as popular as the song itself, if not more so. This success inspired Perrion to reissue the most impressive songs from Ocean of Funk ("Swangin' and Bangin'," "Crooked Streets," and "Smoke On") on Sailin' da South (1995), this album distributed widely by Priority. Following these related 1995 albums by Perrion, E.S.G. maintained a low profile while imprisoned yet continued to reap the continuing success of Sailin' da South as its reach spread beyond Texas. He returned from prison in 1998 with a dark album for Blackhearted (Return of the Living Dead). Around this time, E.S.G. took on an increasingly hardcore stance, presumably in response to the rising competition throughout the Dirty South movement. He next joined forces with Wreckshop Records, an up-and-coming Houston label driven by the reputation of the immortalized DJ Screw, and recorded a pair of albums, Shinin' & Grindin' (1999) and City Under Siege (2000), as well as a chopped and screwed remix of the latter. By this point considered one of the eminent rappers in Texas alongside Lil' Keke, Fat Pat, U.G.K., and Lil' Troy, E.S.G. capitalized on his reputation by co-establishing his own label, S.E.S. Records. For more info on E.S.G. visit his official Instagram page.
About Sean "SOLO" Jemison: Grammy Nominated Producer/Writer for Drake featuring Lil Wayne, "HYFR". Solo has been banging out classics since the early 90s. He is known as the architect of the HTown sound and the foundation of the screwed up click movement. He has produced for legends such as Scarface, UGK, ESG, Slim Thug, ZRO, Paul Wall, Trae, B-Legit, Outlaws, Lil Flip, Devin the Dude, Lil Keke, Fat Pat, Big Hawk, DEA and many more. Solo and his distinct laid back sound will always be a part of the down South culture. For more info on Sean "SOLO" Jemison visit his official Instagram page.
About Coast 2 Coast Mixtapes:
Coast 2 Coast Mixtapes are the most widely distributed mixtapes in the world, with over 100 million downloads/plays generated by over 300 volumes officially hosted by major artists. Coast 2 Coast has a solid reach in the new music industry with a digital magazine, DJ coalition, industry tips blog, yearly convention, and more. Coast 2 Coast Mixtapes represents a unique opportunity for artists of all urban genres, from major to indie. For more information, visit http://www.coast2coastmixtapes.com.