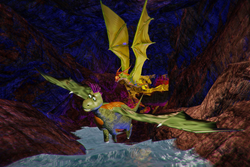 "Diabetes strikes at all ages these days," Pomidor says. "With Dragon-Racers, we want to reach the same broad audience - focusing on fun while conveying an intuitive understanding of blood sugar."
Tallahassee, Florida (PRWEB) October 29, 2015
Dragons may be fearsome, ferocious and even feral, but a new aerial-racing game shows that some dragons have to deal with very human health hazards. Popular culture is rife with dragon tales – from The Hobbit's Smaug to Harry Potter's Hungarian Horntail. But Jett – the teen dragon-hero of Diabetes Dragon-Races -- faces an adversary far more dangerous than hobbits or wizards when diabetes throws him into a literal tailspin.
"Racing-dragons use pressurized steam to fly," explains Bill Pomidor, MD, lead developer at GamePlay Prime, LLC. A doctor, mystery writer, artist, and gamer, Pomidor is on the faculty of two medical schools but lately spends most of his time designing video games for the health-oriented company. "Steam controls a dragon's altitude – but that steam, in turn, depends on their blood sugar. Low sugar can cause crashes, while high blood sugar pushes a dragon up into some nasty storm clouds."
Flying is easy for most steam-dragons, who ride the steady tailwinds that prevail at moderate heights. Life is much more complicated for the game's starring dragon, though. Jett struggles from one mishap to another until players learn to control the sugar -- and steam -- that determine a dragon's buoyancy. A virtual buffet is scattered throughout the track, so Jett's victories ultimately depend on hunting down and "capturing" a healthy diabetes diet.
Under development for the past year, Diabetes Dragon-Races has been released as a free playable preview just in time for World Diabetes Day, November 14th. The game hopes to inspire anyone affected by diabetes – adults, children, diabetics, family members, and clinicians. "Diabetes strikes people of all ages," Pomidor says, noting that the disease has followed the surge in childhood obesity. "Type 2 – or what we once called 'Adult-Onset' diabetes – rose 30% among younger people between 2001 and 2009."
The video game is now available in beta form as a free demo while its developers seek crowd-funding support for Diabetes Dragon-Races. The racing circuit will ultimately span twelve virtual worlds with a wide range of tempting foods -- both healthy and not-so-healthy. Preliminary testing shows promising results in terms of both fun and learning.
"I think this definitely would help someone walk away with a better understanding of blood glucose control," observed one senior medical student and beta-tester. "I mean, just play it for a few minutes and you pretty much learn the target blood glucose levels intuitively."
Lead developer Bill Pomidor can be reached by phone at 850-284-9390 or e-mail at bill@dragonraces.com.