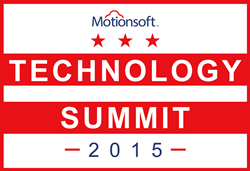 "The Summit Webinar Series is bringing together speakers that are trailblazers in their respective fields to support fitness executives in achieving digital excellence."
Rockville, MD (PRWEB) October 16, 2015
Motionsoft, a health and fitness member management software and billings pioneer, today unveiled a new webinar series titled "Digital Excellence: Insights and Innovation Spanning Data, Member Dialogs, Mobile, Privacy and Security, and Partnerships in the Health and Fitness Arena" following on the heels of the successful Motionsoft Technology Summit held in Washington, D.C. in late September.
The multi-track Summit webinar series will address important fitness business topics, including: retention; analytics and data visualization as well as physical activity tracking; mobile strategy; website conversion; member management; digital health networks and connected fitness; and, privacy and security.
This eight-week series will begin on Tuesday, October 20, 2015. Attendees may register to participate in any of the webinars or the entire series. Registration is free.
Al Noshirvani, CEO of Motionsoft, noted: "The Summit Webinar Series is bringing together speakers that are trailblazers in their respective fields to support fitness executives in achieving digital excellence. The conversations the speakers will lead with webinar attendees will shape discussions concerning what fitness facilities can do right now to generate value from digital initiatives. This is a free opportunity for fitness industry leaders to gain insights and innovations by simply registering for a webinar."
Each session will provide attendees with the opportunity to engage directly with industry thought leaders who will provide actionable tips and techniques important to transforming fitness businesses in the digital era. The webinar sessions, include:
Tuesday, October 20th at 2:00 pm EST
Mike Leveque, COO, MYZONE
Digital Fitness and Wearables: Friend or Foe to the Fitness Industry? Exploring physical activity tracking and how fitness facilities can effectively tap into wearable tech to motivate and engage members.
Track: Physical Activity Tracking
Thursday, October 22nd at 2:00 pm EST
Tim Davenport, CEO, MyBodyScore
Health Scores: Incentivizing consumers to adopt healthy behaviors
Track: Convergence of Healthcare, Wellness and Fitness
Tuesday, October 27th at 2:00 pm EST
Dr. Paul Bedford, Principle, Retention Guru
The VIPs of Retention: Visits, Interactions and Programming (VIP)
Track: Retention
Tuesday, October 29th at 2:00 pm EST
Houman Arasteh, President, h2 wellness
Connected Health: Understanding How to Leverage Technology to Influence Human Behavior
Track: Connected Health and Member Engagement
NOVEMBER WEBINARS
Tuesday, November 3rd at 2:00 pm EST
Weidong Yang, CEO, Kineviz
Actionable Information From Meaningful Member Data in the Fitness Industry
Track: Data Visualization and Analytics
Thursday, November 5th at 2:00 pm EST
Greg Skloot, Vice President of Growth, Netpulse
Developing a Member-Centric Mobile App Strategy
Track: Mobile Strategy
Thursday, November 12th at 2:00 pm EST
Jafar Adibi, CEO, Reunify
The Science of Customer Engagement: realize incredible improvements in customer retention, loyalty and satisfaction
Track: Retention and Customer Engagement
Tuesday, November 17th
Daron Allen, President and CEO, Visual Fitness Planner
Technology-enabled Sales Automation, Member Engagement, and Analytic Insights
Track: Sales Automation and Analytics
Thursday, November 19th
Andrew Kolman, Director of Product Development, - Console Technology, Johnson Health Tech. Co. LTD.
Understanding the Impact of Fitness Technology Landscape
Track: Digital Health Networks and Connected Fitness
DECEMBER WEBINARS
Tuesday, December 1th at 2:00 pm EST
Sid Banerjee, CEO, Clarabridge
Driving High-Impact Member Experience Management Programs
Track: Member Experience Management
Tuesday, December 8th at 2:00 pm EST
Jill Thorpe, Partner, Healthcare Division
Manatt, Phelps & Phillips, LLP
Personal Health Data: Understanding the Rapidly Evolving Use of Technology in Fitness, Healthcare and WellnessTrack: Privacy and Data Security
​Thursday, December 10th
Bill Besselman, VP of Integration and Digital Strategy, Under Armour Connected Fitness
Embracing Digital Partnerships with Under Armour Connected Fitness to Extend Your Reach, Influence, Profitability and Growth
Track: Digital Marketing and Partnerships
About Motionsoft Technology Summit
The Motionsoft Technology Summit is the premier technology event for executives in the health and fitness industry. Attendance is limited to c-level fitness industry executives including owners and operators. Read more about the Summit webinar series here: http://www.motionsofttechnologysummit.com/webinar-series.html
About Motionsoft
Motionsoft is a trusted leader in Cloud-based gym management software and billing solutions. Motionsoft enables fitness operators to Get Them, Keep Them & Know Them™ with forward-thinking technologies to manage member, facility and payment processes. Motionsoft's customers include some of the fitness industry's preeminent brands and operators, including Equinox, Town Sports International, Gold's Gym, Active Sports Clubs as well as corporations, universities, hospitals, and hotels. Motionsoft also hosts the annual Motionsoft Technology Summit. You can learn more about Motionsoft by visiting http://www.motionsoft.net.