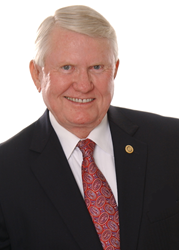 "Larry is a dear friend and a distinguished gentleman, legislator and judge. This is positive forward development for our firm and I am honored to have him as my partner." said Adrian Adams, Founder and Managing Partner of the Firm.
Los Angeles, California (PRWEB) October 16, 2015
We are pleased to announce the Honorable Lawrence W. Stirling (ret.) has joined Adams Stirling Professional Law Corporation as a partner. Former California State Senator Stirling authored the Davis-Stirling Act that governs all common interest developments in the State of California.
Senator Stirling's history of distinguished service in the public sector spans several decades. Elected in 1977 to the San Diego City Council, Mr. Stirling went on to serve three terms as an Assemblyman for the 77th District. His commitment to "Quality in Government" led to his 1988 election to the State Senate. Appointed by Governor George Deukmejian to the San Diego Court in 1989, Judge Stirling served on the bench for over 14 years.
In addition to authoring the Davis-Stirling Act, while serving in the state Legislature Mr. Stirling enacted over 200 pieces of legislation. Additionally, he authored two books, "Leading at a Higher Level", a book on public administration reform, and "Asked and Answered", a book on practical courtroom evidence.
Earlier this year, the Foundation for Community Association Education hosted a black tie gala at the Fairmont Newport Beach to honor Senator Stirling, Katharine Rosenberry and other industry leaders involved in the development and passage of the groundbreaking 1985 Davis-Stirling Act. Today, more than 9 million California residents enjoy the benefits of living in a common interest development. The Davis-Stirling Act provides homeowners a framework to support the effective governance and administration of the 52,000 homeowners association throughout California.
The law firm founded in 2000 by Adrian Adams will now be known as Adams Stirling PLC. Always considered one of California's premier law firms representing common interest developments, Adams Stirling will continue to expand the Firm's unprecedented growth by delivering unmatched legal services and superior client relations.
To better serve Orange County/San Diego and Riverside County the Firm recently launched fully staffed offices in those regions. In the coming year Adams Stirling plans to introduce staffed offices in Northern California. In addition, the Firm will roll out educational programs and a comprehensive update to its award-winning website http://www.Davis-Stirling.com.
Adams Stirling currently has offices in Los Angeles, Ventura, Orange County, Riverside, Palm Desert, San Francisco, San Diego, Sacramento, and Temecula.
For more information about the Firm or to contact our offices, please call (800) 464-2817 or email us at info(at)AdamsStirling.com.