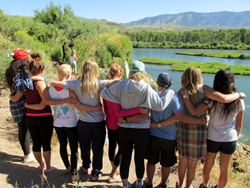 After treating hundreds of teen girls working through trauma caused by bullying, we have seen what kind of damage bullying can do," commented Dan Stuart MS, LMFT, Executive Director and Founder of Solstice West.
Salt Lake City, UT (PRWEB) October 15, 2015
Solstice West and Solstice East, residential treatment centers for teen girls ages 14-18, observe National Bullying Prevention Month by informing parents of what actions they can take to prevent bullying.
Bullying is an ever-growing issue. According to the U.S. Department of Health and Human Services, one in three students in the U.S. say that have been bullied in school.
Taking preventative measures against bullying can help save teens from the emotional scarring bullying can create. In order to prevent bullying, both Solstice programs believe parents should:
1. Take bullying seriously. Many parents think back to their teenage years and remember bullying as something that people can easily overcome. However, with the widespread usage of social media, bullying has become an inescapable part of life for many teens. Due to bullying, some teens are even turning to self harm and in extreme cases, suicide. Because of this, when parents see signs of bullying, they should take appropriate action.
2. Listen to their child. Instead of making assumptions about bullying, parents should listen to their child talk about their experience of bullying. Don't minimize their experience and correct them if their experience does not sound accurate. The number one thing kids who have been bullied need is a safe place to process the incident and to talk it out with someone they can trust.
3. Get their child to think outside the box. Parents should suggest alternative solutions to their child's bullying situation. Instead of staying in their social network, encourage children to connect with other students they've never reached out to who may provide a support system for them.
4. Get to know their child's friends. Parents should get to know the parents of their child's friends, invite their child's friends over, or take their child to activities with their peers to have a good sense of their child's relationships. If a child already has a strong, positive group of friends, parents should speak to their child's friends about standing up to bullies.
Spotting the signs of bullying is an important aspect of bullying prevention. Signs that a child may be getting bullied: changes in mood, lack of care in appearance, a drop in grades, and withdrawing from social activities and extracurriculars.
"If a teen is experiencing bullying, they should tell someone of authority- whether that be a parent, school administrator, or camp counselor. It's important to stop bullying before it gets any worse," says Dan Hadley MS LMFT, Director of Clinical Services at Solstice East. "Bullying can cause emotional trauma that makes teens change the way they think about themselves. Many accept what the bully says as truth, which can damage them for the rest of their lives."
Both Solstice programs specialize in helping teen girls work through emotional trauma by utilizing cognitive behavior therapy such as Eye Movement Desensitization Reprocessing (EMDR), somatic experiencing, and equine assisted psychotherapy.
"At our residential treatment center, we understand the importance of preventing bullying. After treating hundreds of teen girls working through trauma caused by bullying, we have seen what kind of damage bullying can do," commented Dan Stuart MS, LMFT, Executive Director and Founder of Solstice West. "But we also know that there's hope for those have been bullied. The majority of students come out of our programs ready for a successful future."
For additional information about bullying prevention, visit the following:
PACER's National Bullying Prevention Center: http://www.pacer.org/bullying/
_______________________________________________________
Solstice West and Solstice East are residential treatment centers that have helped hundreds of struggling teens on their journey to solving issues like depression, anxiety, mood disorders, trauma and associated symptoms, drug abuse/addiction, and behavioral problems. Solstice West in Utah and Solstice East in North Carolina offer specialized, clinically intensive programs based on the specific needs of young women. At Solstice West and Solstice East, young women discover their full potential. For additional information on Solstice West, please call 801-444-0794. For additional information on Solstice East, please call 828-484-9946.