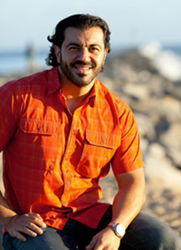 Craig and I don't just teach internet marketing, we actually practice it.
Irvine, Calif. (PRWEB) October 19, 2015
Bedros Keuilian, creator of PTPower and founder of the popular fitness boot camp franchise Fit Body Boot Camp, will host a weekend workshop on how to create and launch an online info product. The event, Online Info Blueprint Workshop, will feature his long time friend and business partner Craig Ballantyne, author of Turbulence Training, 24/7 Fat Loss, and Home Workout Revolution. Together, they will lead the workshop on November 6-7, 2015, in Irvine, Calif.
The workshop will follow a format similar to Keuilian's other fitness industry education programs (including 7 Figure Mastermind) with talks and workshops on creating info products, improving sales copy, and creating marketing funnels. The event will also feature a bonus workshop on how to set up an online coaching and consulting business along with a networking cocktail party. Like in those programs, space is limited, so interested professionals must register ahead of time to secure their spots.
"Craig and I don't just teach internet marketing, we actually practice it," said Keuilian, "And we both make a pretty darn good living doing it."
The workshop will focus on developing skills in three main areas: product creation, copy writing, and marketing funnels.
Between the talks and hands-on group practice sessions, Keuilian and Ballantyne will explain and demonstrate specific practices that they use in their own businesses. For example, they have a four-step process they use for crafting their marketing message and writing sales copy, which will form the basis of one of the practice sessions.
For Keuilian and Ballantyne, helping other professionals succeed is a personal mission. From past experience, they both know the frustrations of running an unsuccessful business.
"I'm shocked when I see so many new online info marketers make these three rookie mistakes that cause them to lose a bunch of money, waste a ton of time, and end up frustrated and broke," said Keuilian, "That's why Craig and I are so committed to giving them the shortcuts and secrets that have built our businesses and given us the freedom to travel the world, take long stretches of time off, and literally help hundreds of thousands of people."
Given the popularity of their other programs, Keuilian and Ballantyne anticipate many more registrations for Online Info Blueprint Workshop as the deadline draws nearer. Therefore, they are encouraging interested professionals to register as soon as possible.
For more information on this program, please visit the website for Online Info Blueprint Workshop:
http://onlineinfoworkshop.com/
About PTPower:
To find out more about Bedros Keuilian, his company PTPower.com and the fitness boot camp franchise, Fit Body Boot Camp, contact Bedros Keuilian at (800) 261-0208. Alternatively, you may use the contact form at http://ptpower.com/contact-me/ or send an email to Bedros Keuilian at support@keuilian.com.