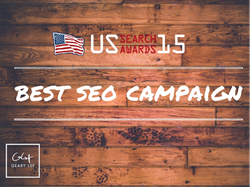 San Diego, CA (PRWEB) October 15, 2015
Taking home the trophy for 'Best SEO Campaign' at the US Search Awards for the second time in three years, is San Francisco-based digital marketing agency, Geary LSF. The agency, which specializes in creating custom omni-channel marketing strategies for their clients, was shortlisted for a total of three awards including: Best Use of Search – Retail, Best Integrated Campaign and Best SEO Campaign.
The award winning campaign for HomerunMonkey.com, a property of longtime client Monkey Sports, included extensive search and content marketing and was built to capture upper funnel search queries. Inspiration for the campaign was sparked by the growth in informational based searches and growing traffic to a few existing buying guides. Geary LSF optimized the guides for a better user experience, and built out a content hub called "The Dugout" to answer common questions that shoppers ask when looking to purchase baseball equipment. When asked about the work performed, Geary LSF Account Supervisor, Casey Novak, had the following to say, "It's definitely been a fun project to work on. We're fortunate to have great long term clients that believe in what we do, and trust us to keep their business fresh and relevant in today's digital marketplace. I'm looking forward to the next phase of the project, where we'll be working to expand the strategy to address users' needs a bit further down the funnel."
The winning campaign is unique, not just because of the recognition it's received but because of the results the agency was able to drive for a client that had been a partner in SEO for over six years. Oftentimes efforts can grow stale and results can plateau, but Geary LSF was able to iterate on their strategy and continue to expand the reach of the client, ultimately growing their results and revenue.
The 2015 US Search Awards ceremony took place at the Paris Hotel in Las Vegas on Wednesday, October 7th, 2015, and was the largest celebration of Search, PPC and digital marketing in the USA, attracting hundreds of attendees. The award for 'Best SEO Campaign', according to the US Search Awards website, goes to the campaign that has achieved outstanding results in search engines like Google, Yahoo!, and Bing in natural, free or organic listings.
For the complete winners list, visit the award website. For more information on Geary LSF, or a copy of the winning submission, please contact a representative of the agency at marketing(at)gearylsf(dot)com.
About Geary LSF
Geary LSF is a full service digital marketing agency headquartered in San Francisco, with additional offices in San Diego, Chicago, Boston, Philadelphia and St. Louis. Specializing in an omni-channel marketing approach, the team turns digital ambitions into business results for more than 450 brands worldwide including: Bumble Bee Foods, Target, Aramark and several others. For more information, please visit http://www.gearylsf.com.