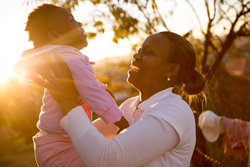 mothers2mothers believes that employment is empowering, that education is essential for better health, and that by investing in women, together we can invest in the future.
Santa Monica, California (PRWEB) November 10, 2015
WHO: The RONROBINSON flagship boutique, specializing in unique labels and local L.A. designers, will support mothers2mothers on World AIDS Day and Giving Tuesday.
WHAT: On December 1st, which is World AIDS Day and Giving Tuesday, the RONROBINSON flagship boutique will allow customers the special opportunity to buy the perfect holiday gifts for loved ones, while also helping to save the lives of HIV-positive mothers and their babies in Sub-Saharan Africa. 20% of all proceeds will be donated to benefit mothers2mothers, a nonprofit organization dedicated to globally eliminating pediatric AIDS. The event will feature a book signing by fashion icon and supermodel Cindy Crawford for her new book Becoming, a book signing by Academy Award-winning producer Brian Grazer for his new book A Curious Mind: The Secret to a Bigger Life, and musical stylings from DJ Sandra Luesse.
WHEN: Tuesday, December 1, 2015; 5:00PM – 8:00PM
WHERE: RONROBINSON 1327 Fifth Street, Santa Monica, CA, 90401
Media Contact: Kelley Weaver at Melrose PR – Kelley(at)melrosepr(dot)com, 310-260-7901.
ABOUT RON ROBINSON
Ron Robinson began his Los Angeles retail career in the late 1960's, and in 1978, RON ROBINSON, Inc. opened its doors at Fred Segal on Melrose Avenue. With the store's reputation for a curated selection of high-quality merchandise and outstanding service, RONROBINSON captured a quintessentially California aesthetic and quickly became a Los Angeles retail icon and destination for musicians, artists,designers and celebrities. In November of 2014, Ron Robinson opened a 5,500 square foot, free standing, open-concept storefront in Santa Monica. The eponymous store, features a unique shopping experience, with the same expertly selected collections of home design, men, women's and kids apparel, books, jewelry, accessories and beauty products. RONROBINSON continues to reinvent the concept of a retail environment and regularly hosts diverse collaborations with Southern California based artists, musicians, and designers.
ABOUT MOTHERS2MOTHERS
mothers2mothers (m2m) is an Africa-based non-profit organization leading global efforts to eliminate pediatric AIDS and create healthy families and communities. At the heart of its efforts are HIV-positive mothers from local communities who intimately understand the social and cultural challenges of living with HIV. By sharing their own experiences, these "Mentor Mothers" have a unique ability to form trusted relationships and common bonds with pregnant women and new mothers to help them access medical care early in their pregnancies and stay on treatment for the best possible health outcomes for themselves and their families. Formerly marginalized by their HIV status, Mentor Mothers are professionalized, employed, and economically independent, fighting stigma and discrimination through example and becoming role models and leaders in their communities. The peer-based approach has proven to achieve better health outcomes and reduce mother-to-child transmission rates, while also creating significant savings through averted HIV treatment costs. Since its founding in 2001 at one Cape Town health center, m2m has reached more than 1.3 million HIV-positive women in nine African countries. Learn more at m2m.org or follow on @m2mtweets.