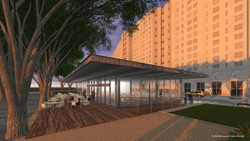 Shake Shack is a home run for The Crescent...those who live, work and visit Uptown are going to love it.
Dallas, Texas (PRWEB) October 15, 2015
Crescent Property Services LLC today announced that Shake Shack® – the critically acclaimed, modern day 'roadside' burger spot which began in 2001 as a hot dog cart in New York City – will open its first Dallas location at The Crescent® in Uptown Dallas. The restaurant, to be situated in The Crescent's newly proposed park area at the corner of McKinney Avenue and Pearl Street, will have indoor and outdoor seating overlooking the lushly landscaped grounds. Shake Shack, which ranked #25 on the Zagat 2014 list of most popular restaurants in New York City, is expected to open in 2016. Mitch Traub of The Retail Connection represented Shake Shack, and Jack Gosnell of CBRE/UCR represented Crescent.
"Shake Shack is a home run for The Crescent. It will open just as The Crescent finalizes its first major renovation in three decades, and it will launch our new corner park in a big way, helping it to become a very energetic and vibrant spot," said John Zogg, managing director of Crescent Real Estate Equities, LLC. "Based on the reception that Shake Shack gets at its restaurants across the world, we think those who live, work and visit Uptown are going to love it."
Known for its fine-dining roots, Shake Shack's high-quality food at a value has resulted in a cult-like following. Founded in New York City, the brand now has several restaurants in the U.S. in cities such as Chicago, Washington, D.C., Atlanta and Austin and international locations including London, Istanbul and Dubai.
Although its design will reflect the high-end architecture of The Crescent, the Dallas site will very much resemble Shake Shack's original 2004 location in Madison Square Park. The Beck Group has been named architect and general contractor. The location will be available for special events.
Today's announcement comes almost a year after Crescent officials announced plans to spend more than $30 million to upgrade The Crescent with an emphasis on opening the iconic office towers and adjacent hotel, retail and entertainment amenities as a gathering space for the vibrant Uptown neighborhood. This is the first major renovation for the multi-office complex designed by John Burgee and Pritzker Prize-winning architect Philip Johnson since its 1986 completion. The office and retail complex is the centerpiece of the Uptown Dallas Class A office market offering approximately 1.1 million gross square feet of office space in three contiguous buildings and 165,000 gross square feet of atrium space for retail shops and offices.
Renovations to the development are expected to be complete by mid-2016.
Zogg adds that Shake Shack is a great addition to the new pedestrian experience at The Crescent, which will now operate a total of 12 restaurants with different price-point options, from casual eateries and coffee shops, to fine dining.
This is the second new restaurant coming to The Crescent. Officials announced that Ascension® coffee house and wine bar, which originated in the Dallas Design District, will open its second location by early 2016 adjacent to the Bank of America offices at the 200 Lobby fronting the motor court.
Shake Shack is known for its 100% all-natural, antibiotic-free Angus beef burgers (no hormones added), hot dogs, frozen custard, crinkle cut fries, beer and wine (which will be available at The Crescent location) and treats for four-legged friends. Menu standards include the ShackBurger®, complete with secret sauce, and the vegetarian 'Shroom Burger; flat-top dogs including a hot dog made of chicken, apple and sage sausage; a variety of frozen custard concretes blended at high speed with mix-ins from local food purveyors; drinks such as Shack-made lemonade; beer and wine, including Brooklyn Brewery's custom Shackmeister® Ale and local brews; and, for dogs, a Pooch-ini® concoction featuring ShackBurger dog biscuits and vanilla custard.
For more information, visit crescent.com.
About Crescent
Crescent Real Estate Holdings LLC, headquartered in Fort Worth, Texas, is a fully-integrated real estate company owned by Goff Capital and Barclays Capital. Through its subsidiaries, Crescent manages and develops premier, Class A office buildings. Crescent also holds investments in resort residential developments in locations such as Scottsdale, Vail Valley, and Lake Tahoe; a luxury hotel, The Ritz-Carlton, Dallas; and the wellness lifestyle leader, Canyon Ranch®. For more information, visit crescent.com.
# # #