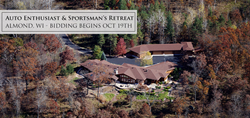 Charlotte, NC (PRWEB) October 14, 2015
Interluxe is proud to announce an online auction for a remarkable property in Almond, Wisconsin. Built in 1999, this impressive 6,545 square foot estate is conveniently located to both Milwaukee and Chicago. The award-winning home features cathedral ceilings, stone fireplaces and expansive, tall windows providing exceptional natural views are just a few of the many highlights this home has to offer.
Nature lovers will find this home to be a true gem, as it sits on 224 pristine, beautifully wooded acres. This one level home provides easy access to all of its 6,545 square feet and is surrounded by a charming forest that is perfect for hunting, exploration, camping and calming walks.
Spacious inside and out, 7399 Highway A, Almond, Wisconsin is features 3 large and striking bedrooms as well as 5 full and 1 half baths. The main level master suite comes complete with an enormous walk-in closet and spa-like master bath.
Adding to the home's sense of space is the architecturally impressive great room. Cathedral ceilings and an open feel help to make this massive great room a true focal point and asset. Adding to the property's considerable charm are the many impressive fireplaces found throughout the residence.
Luxury abounds at every turn at 7399 Highway A, Almond, Wisconsin, helping to make this home perfect for both living and entertaining. The north wing of the home comes with an indoor swimming pool and ten-person Jacuzzi, as well as a full wet-bar and full bathroom. These features are accompanied by breathtaking views of the surrounding nature. The roomy and very well appointed kitchen is a chef's dream and reveals top of the line appliances including Viking appliances. The home also sports a large garage, which is accompanied by a separate collectors garage that is well equipped, rich in special touches and spacious.
"This home is truly one of a kind." Stated Scott Kirk, President of Interluxe. Kirk continued, "Well appointed at every turn, exquisitely designed and with wonderful natural views at every turn, this is one of those rare properties that has something to offer every potential visitor, guest and, of course, homeowner. Anyone that sees this property will instantly see its charms both inside and out. This one is a winner."
7399 Highway A, Almond, Wisconsin will be available for auction through Interluxe on October 19th. Previews begin on Friday, October 16th and will run throughout the weekend prior to the auction. Those wanting to learn more about this property should visit http://www.interluxe.com/12434.
About Interluxe
Based in Charlotte, North Carolina, Interluxe is the next step in the evolution of the property auction industry. The streamlined and intuitive Interluxe online platform allows motivated sellers, qualified buyers and seasoned agents to interact in an easy and fluid fashion in order to facilitate transactions and achieve the best possible outcomes. More information is available at http://www.interluxe.com