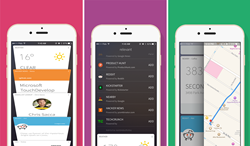 Not everything needs to be an app or a website. Some things are just meant to be cards.
Montreal, QC (PRWEB) October 15, 2015
Relevant is an intelligent home screen that brings users what they need when they need it without requiring them to download and launch multiple apps. Relevant does this by transforming Apps and Web Services to interactive cards. Users can then choose the cards/services they like and simply add them to their screens.
Unlike other apps where users have no control over the content/services that are delivered to them, Relevant puts users in full control. With Relevant users can add, remove and even customize each card to their liking.
"The genesis of Relevant came from the pain of having to constantly jump from app to app and website to website in order to catch up and interact with the internet services we use on a daily basis." says Mo Mozafarian, founder/CEO of Relevant. "Take your daily routine for example. If you're like me you check the weather, news, last night's game scores, social media and some business metrics. This means launching five or six different apps and a couple of websites just to get an overview of current events. Now with Relevant, I get all this information in one place. If I need to dig deeper I simply tap on a card and it deep links me to the source."
Relevant App Walkthrough
As soon as you launch Relevant, you are presented with a list of cards from a variety of sources and web services. You then add the ones that are relevant to you and you are all set. You can customize each card to your liking by simply tapping on the "i" button on the top right corner of the card and changing its settings.
Each card comes with a set of additional functions which you can access by holding down on a card to display the fly out menu.
Relevant's Mission
"At Relevant we believe that by unbundling applications, and transforming their most essential features to these compact units (cards), we can start connecting different pieces of the web together seamlessly to create a more fluid and unified internet experience. A magical experience, evolved by us and around the things we care about. An intelligent fabric that grows with our needs, preferences and expectations to help us make the right decisions, at the right time." says Mo Mozafarian, Founder/CEO of relevant.
Team
Mo Mozafarian — CEO @m_mozafarian
Adolfo Rodriguez — CTO @wirchoReal
Backed by Real Ventures, a Montreal based early stage VC firm.
Links
Media: (Screenshots, Video, Gif)
https://www.dropbox.com/sh/ccfjsxt7jzfswlc/AABpMH3jd6FOXgKkYINaKp3ra?dl=0
Relevant Website:
http://relevant.ai/
Relevant on the App Store:
https://itunes.apple.com/app/relevant-missing-home-screen/id970172407?ls=1&mt=8
A little taste of the future – Our quest for making the internet relevant by Mo Mozafarian
https://medium.com/relevant-stories/a-little-taste-of-the-future-941cd18bdffd
For any inquiries please email hi(at)relevant(dot)ai