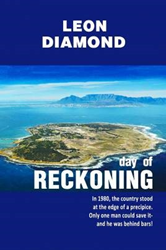 "This thrilling novel is not only a fascinating read, but it tells an unforgettable story about an important time in South Africa's history." - Robert Fletcher, CEO of Strategic Book Publishing and Rights Agency
(PRWEB) October 21, 2015
Picture when Apartheid in South Africa was at its worst. This stunning political thriller captures the years 1979 to 1981, when the most well-known freedom fighter of his country was in prison, along with other leaders of his liberation party.
The story opens in Stellenbosch, a picturesque university town 40 kilometres from Cape Town. Two students are discussing politics as they play golf. One is a staunch right winger and the other is a liberal. Fate thrusts them into unpredictable roles. The masses are in disarray and most of its leaders are in prison. For human freedom to succeed, the release of their inspirational leader must happen. The man has already been imprisoned for 16 years, and with his health failing, time is of the essence.
How can they break their charismatic leader out of a penitentiary that has never before been penetrated? No one has ever escaped and lived to tell the tale. The followers form a task force and approach the Soviets for help, but they have their own agenda. What will happen on the "Day of Reckoning?"
Watch the video at: https://www.youtube.com/watch?v=u1RHX1Nywvw&feature=youtu.be
About the Author: A retired architect, first-time author Leon Diamond grew up in Port Elizabeth, South Africa, and now lives in Johannesburg. He is a member of the South African Institute of Architects and a past member of the Royal Institute of British Architects. He wrote this book as a tribute to a great South African. His next book is a collection of short stories.
"This thrilling novel is not only a fascinating read, but it tells an unforgettable story about an important time in South Africa's history. We are most pleased to announce its release," said Robert Fletcher, CEO of Strategic Book Publishing and Rights Agency.
DAY OF RECKONING (ISBN: 978-1-63135-008-5) is now available for $17.50 and can be ordered through the publisher's website:
http://sbprabooks.com/LeonDiamond or at Amazon.com or Barnesandnoble.com.
WHOLESALERS: This book is distributed by Ingram Books and other wholesale distributors. Contact your representative with the ISBN for purchase. Wholesale purchase for retailers, universities, libraries, and other organizations is also available through the publisher; please email bookorder@sbpra.net.