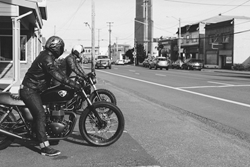 We try to share and encourage this idea of getting out there and doing something, of putting yourself out there and finding adventure.
Los Angeles, CA (PRWEB) October 15, 2015
Andrew Blaschko Interviewed on the New Heritage of Making Do With What You've Got
British Customs interviewed Instagram celebrity Andrew Blaschko, better known as @CafeRacersOfInstagram (CROIG), about the heartbreak that led to the first national CROIG tour, making custom motorcycles by hand, and what the freedom of riding on a motorcycle means to him.
Blaschko co-runs with partner David Chang an Instagram account named @CafeRacersOfInstagram, which has 439,000 followers. On this account, they post pictures of some of the best-looking vintage racing motorcycles the Internet has to offer. Blaschko is also known for going on adventurous tours across the country on custom-built motorcycles to meet with community members and fans, as a self-proclaimed ambassador of creativity and the DIY movement.
At the beginning of October, Blaschko sallied forth with his partner and a number of followers and embarked on this year's month-long tour along the East Coast to meet with community members and raise awareness for charity. Blaschko is riding on a CROIG X BC Edition 2015 Triumph Bonneville to raise awareness for Riders for Health, a charity that uses motorcycles to deliver life-saving medical supplies to rural communities in Africa. The tour is powered by a generous team of sponsors including GoPro, British Customs, Simpson Racing Products, Abel Brown, Hagon, Saint, RAEN, Thursday Boot Co., and Stance as part of British Customs' Weekend Projects initiative to put motorcycle customization in the hands of the average rider and to raise awareness for Riders for Health. As part of BC's Weekend Projects, how the bike was built will be published on their blog over 8 weeks. Blaschko has been appointed as an acting ambassador for British Customs' Weekend Projects. To benefit the charity, the custom motorcycle Blaschko is riding will be given away alongside products from each of the sponsors. For a chance to win, register and donate at British Customs' website.
"People live somewhat vicariously through what we do by what we post when we travel. I think a lot of people get stuck in a routine and their mundane cycles of work and family or whatever else, and we try to share and encourage this idea of getting out there and doing something, of putting yourself out there and finding adventure," Blaschko said in the interview.
In the interview, Blaschko confessed that the first CROIG tour was instigated by the heartbreak of ending a long-term relationship.
Blaschko also talked about his approach and method to making custom motorcycles and what being able to personalize a motorcycle means to him. As an ambassador of free will and creatively doing things oneself, he spoke about the lost heritage of working with one's own hands, and how he's trying to establish the notion that function inspires character.
Blaschko also discussed the feeling of being called by the open road, and the excitement of being a part of the motorcycle community.
The remaining CROIG tour dates and locations are below. Any photographers or videographers interested in meeting with CROIG are encouraged to contact them via Instagram.
10.17 - SAVANNAH, GA
10.19 - RALEIGH, NC
10.21 - WASHINGTON DC
10.22 - BALTIMORE, MD
10.25 - NEW YORK, NY
10.28 - BOSTON, MA
10.29 - MANCHESTER, NH
11.01 - NIAGARA FALLS
11.02 - DETROIT, MI
11.03 - GOSHEN, IN
11.04 - CHICAGO, IL
About CROIG:
CROIG, known on Instagram as @CafeRacersOfInstagram, is a leading voice of the retro motorcycle enthusiast community. CROIG consists of Andrew Blaschko and David Chang, who believe that "the freest self is the truest self."
About British Customs:
British Customs is a Southern California-based lifestyle brand and designer of aftermarket motorcycle parts. They are known for making the highest quality factory-spec bolt-on parts that only require common tools and minimal technical knowledge to install. With any of their parts upgrades, the average rider can completely customize his or her motorcycle in a weekend.