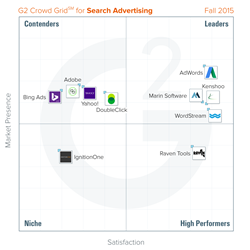 CHICAGO, IL (PRWEB) October 15, 2015
The updated GridSM report for search advertising, published today by business software review site G2 Crowd, ranks 10 products to help purchasers with their software selections. AdWords, Kenshoo, Marin Software and WordSteam were named Leaders in the report, receiving strong customer satisfaction scores with a large market presence. Additionally, Raven Tools was named a High Performer, earning strong customer satisfaction marks with a smaller market presence score. Overall, WordStream earned the highest overall Satisfaction score while AdWords earned the highest overall Market Presence score.
The Fall 2015 GridSM report is based on more than 600 reviews written by business and advertising professionals. Of the roughly 30 products listed in G2 Crowd's Search Advertising Software category, the ranked products each received 10 or more reviews to qualify for inclusion on the GridSM.
The GridSM factors in customer satisfaction reported by users, along with vendor market presence determined from social and public data to rank products. Based on a combination of these scores, each software solution is categorized as a Leader, High Performer, Contender or Niche.
Since the Winter 2015 GridSM report, WordStream moved from the Niche Quadrant to the Leaders Quadrant as its satisfaction score increased by 40 points and its market presence increased by 17 points. Additionally, DoubleClick Digital Marketing moved from the Leaders Quadrant to the Contenders Quadrant as its satisfaction decreased by 11 points.
Across the board, users were highly satisfied with search advertising keyword optimization algorithms. Paid keyword optimization received an average rating of 84 percent across all products in the report – the highest of all feature ratings.
Additionally, key findings revealed that Google Search Network is still dominant. While reviewers mentioned the benefits such as less competition and better ROAS on the Yahoo! Bing Network, they still predominately rely on the Google Search Network for the majority of their paid search advertising.
Some highlights from search advertising software reviews on G2 Crowd:
"I have a pretty in-depth knowledge of PPC in general but using WordStream has allowed me to teach the basics to my staff and then they can take it from there. The WordStream interface is simple and the automated nature of the 20-minute PPC software makes managing our PPC accounts pretty much error-proof! It gives me peace of mind knowing that I don't have to micromanage the process internally."

Kim B., Director of Marketing at Wahoo Docks
"[Raven Tools'] new reporting suite has really helped to up their game. Originally starting as a great combination of SEO tools, Raven has grown to be more powerful with the integration of additional analytics platforms and monitoring tools. The new dashboard and reporting features are great."

Greg H., Senior Director of Digital Marketing at Portland State University's Center for Executive and Professional Education (CEPE)
"Moving onto Kenshoo from an agency-centric platform, I have appreciated the flexibility to manage within a profile to satisfy a variety of performance and business objectives, rather than simply applying a single algorithm at a portfolio level. And as a full-serve, in-house resource, I have definitely appreciated the ease of creating, scheduling and managing the many (and vastly more important) components of a search program beyond the bid."

Matt B., Manager, Search Marketing at Hanover Direct, Inc.
"If you love Adobe you will love this product. Adobe [Media Optimizer] is great at researching and knowing what its users need and implementing software that helps make your job easier. I love being able to import data from all sorts of sources and use it to optimize the account I am working on. Additionally, the simulation tool helps me to figure out the best ways to optimize the account without hurting performance in other areas. I love how easy and simple it is, even with the default settings."

Steve J., Account Manager at Spyder Trap
"Bing Ads has a pretty nice user interface that makes it easy to find what you need.
It also has a few functions that Google AdWords does not. Bing Ads allows the user the option to opt out of devices whether it be desktop, tablet or mobile. This function is different than Google AdWords, which forces the user to combine them all."

Ashlee A., PPC Analyst at Priceline
Premium research on searching advertising software can be purchased on the G2 Crowd website for $599. This offers the original data for filtering and weighting, as well as individual profiles of each platform with the most helpful positive and negative reviews, detailed company information, user satisfaction ratings, feature scores and customer metrics. Future refreshes of the GridSM will provide updated rankings based on the latest reviews and social data.
Be sure to check out the new GridSM for search advertising product analysis and subscribe to the premium research.
_______________
About G2 Crowd, Inc.
G2 Crowd, the world's leading business software review platform, leverages its 41,000-plus user reviews to drive better purchasing decisions. Technology buyers, investors, and analysts use the site to compare and select the best software based on peer reviews and synthesized social data. Co-founded by the founder and former executives from SaaS leader BigMachines and backed by roughly $12 million in capital, G2 Crowd aims to bring authenticity and transparency to business technology research. For more information, go to G2Crowd.com.